Start Your Winning Streak at Casino.com With Its New Live Roulette Promotion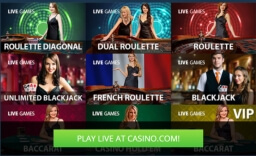 Casino.com, a brand operated by ONISAC Ltd of Gibraltar is not just known for its comprehensive selection of casino games. In this casino, players from South Africa can also enjoy a diverse selection of casino bonuses and promotions. A current promotion that's making waves among players is its 'Winning Streak', a live roulette offering. In this newest live casino promotion, players from South Africa are invited to take part in the promotion to win Golden Chips worth $100,000.
How Does This New Promotion Work?
Just like other promotions from this casino, interested players need to opt-in to participate. Once your participation has been confirmed, you only need to pick 'number 7' and use this when you play in real money mode. If this number lands, your win streak will start. And if this number lands in succession, then you can win more prizes and chips in this casino promotion. For example, if you can win 2 times in a row, you will end up with $100 in Golden Chips. If you get 3 successive wins, the casino will offer you with $1,000 in Golden Chips. And if you can extend it to 7 times in a row, then you will end up with $100,000 in Golden Chips. The idea here is to follow the 'number 7' and bet on this number every time.
Know the Terms Before You Play
You need to pay attention to the terms and conditions before you play in real money. As a fully licensed casino, Casino.com requires that all participants to this promotion should be at least 18 years of age. To collect the Golden Chip prizes offered by the casino, interested players collect consecutive wins in live roulette using the lucky number. Once you have won in the game, the system will automatically take note of your winnings. Keep in mind that the Golden Chips from the casino are not automatically credited. If you win, you need to satisfy first the playthrough requirement as identified by the casino.
Under this new promotion from Casino.com, a Golden Chip will assume a specific value. For example, your $100 in Golden Chips will have a value of 100 x $1 or its local currency equivalent. Once the Chips have been credited to the account, the player has 7 days to use and play these chips. And if not used within the period identified by the casino, the bonus is no longer valid.
To enjoy this current promotion, you need to sign up and make that first deposit. Players from South Africa can take part in this promotion by opting in and by completing the first deposit. This is an on-going promotion of Casino.com and operator did not specify a timeframe for the promotion. To keep updated on this current casino offering, we highly recommend that you follow and check our website regularly. We follow the latest promotions from Casino.com which we highly recommend for South African players.
Written for onlinecasino-southafrica.co.za by Adiela de Bruyn - on 23-07-2019