A Tough Year For Casinos in South Africa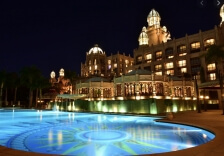 The COVID-19 pandemic has significantly impacted many industries. The travel sector has been decimated due to extensive restrictions on tourism and all kinds of travel. Retail stores have also been a major victim of the pandemic. While some sectors have managed to adapt and even thrive, the land-based casino sector is not one of those lucky sectors.
A number of casino companies have revealed just how much the pandemic impacted their operations. Many of these properties had to close down for an extended period of time in order to comply with efforts to try to reduce the spread of the virus.
Casinos hard-hit
Sun International is a major chain of hotels and casinos. For 2020, the company's adjusted headline earnings went from R763m down to an R1.1bn loss. Its income from operations fell 49% due to the significant decline in visitor numbers.
It was able to largely get back up and running starting in July, with this being showcased in the steadily improving figures up until December. Further restrictions then came into place, including a ban on alcohol sales and an 8pm curfew becoming a reality in the middle of December. Once again, bookings were largely canceled and overall activity plummeted for the latter half of December and starting off in January.
Other casino operators have also seen similar results. Their revenues have dropped massively in 2020, with some potentially struggling to survive. The staff at these properties will be hoping that there will be no more shutdowns coming down the line.
An uptick in problem gambling
The South African authorities have also been concerned about the potential uptick in online gambling and what impact this could have on problem gambling behavior. Resources were put into providing treatment to problem gamblers during the pandemic to try to help them deal with their issues despite the lockdown.
A lot of people pointed towards an increase in the number of gambling-related advertisements appearing on the likes of television when the pandemic kicked in. There was a correlation between the increase of these ads and people looking to get out of their self-exclusion periods.
Written for onlinecasino-southafrica.co.za by Adiela de Bruyn - on 24-03-2021