Discover the Rewards of Cashback and Rebates at Silver Sands and Yebo Casinos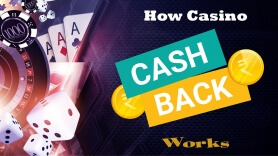 When it comes to top bonuses that can be earned at South African casinos, the cashback offer is one of the best. Aside from the standard new customer bonus that is offered by top-rated casinos, operators are also known to offer a cashback offer. It's one of the most popular promotions around that are highly sought after by both players and enthusiasts. So what makes a cashback offer lucrative and truly popular among SA players?
What is a Cashback Bonus Offer?
The cashback offer is one of the most popular and lucrative casino offers online. As the name suggests, this bonus offer promises to return a portion of your money in a casino. In many SA casinos, the cashback or rebate that you will get is often expressed as a percentage up to a certain amount. For example, a casino will offer a 20% cashback offer up to R100. Also, the rules of the bonus will spell out the covered days that are included in the promotion. A casino may specify that the cashback offer is only available for one day or the rest of the weekend. Often, the cashback or rebate that you will get will be computed based on the total losses that you have incurred on the casino.
Here's how this promotion can work for you. For example, a casino will advertise a 10% cashback offer up to R100 during Wednesdays. This means that the South African casino will return 10% of what you have lost up to R100. To qualify, you need to satisfy a few conditions and rules like the minimum deposit and the days that the promotion is applied. For this reason, it's highly recommended that you check the fine print before signing up.
Silver Sands and Yebo Casinos as Top SA Gaming Platforms for Rebates
If you are looking to enjoy this kind of offer, then we highly recommend that you check out the existing offers by Silver Sands and Yebo Casinos. These casinos accept players from South Africa and these are highly rated for their games, promotions, and services.
Silver Sands Casino- Monday Cashback Bonus
Silver Sands Casino is a popular gaming destination for South African players and it offers a fun cashback offer. This promotion is available every Monday and applicable to players who will make a minimum deposit of R1,000 on the day. Under this promotional arrangement, players can enjoy up to 40% in a cashback offer. Take note that this bonus offer is also subject to certain conditions so make sure you check with the website.
Yebo Casino- Lucky 13 Daily Rebate
For the Yebo promotion, players can enjoy a rebate of up to 13% and this is given daily. To qualify for this promotion, players must make a minimum deposit of R25. This is an automatic promotion at Yebo and the bonus is credited to the account the next morning.
Check out these ongoing promotions while it last. At Silver Sands and Yebo Casino, SA players can access not only the best games but exciting promotions as well.
Written for onlinecasino-southafrica.co.za by Adiela de Bruyn - on 02-09-2019