Live casino
If you enjoy being able to gamble online at your own convenience, but you also want to savour the unique experience of being in a real casino, then live online casino gaming is the answer. Live casino gaming connects you with a real casino. Through a webcam and makes it possible to play real table and card games against real life players and a human dealer. Live casino gaming makes it possible for South African online players to get the Las Vegas experience. This without ever setting foot outside South Africa!
Estimated reading time: 5 minutes.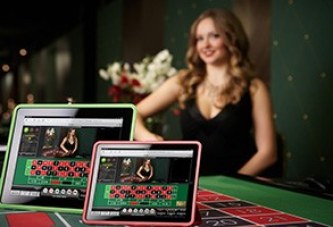 Choose a great South African casino
What is Live Casino?
The difference between live casino and a regular online casino is straightforward. In regular online casino gaming, you are effectively playing against a machine. These games use virtual intelligence that replicates real casino games through algorithms and software. With live casinos, everything is real: the dealers, the other players, the table, the cards and the roulette wheel. The action is brought into your home through high speed internet and a webcam. This creates the feel of an authentic casino.
How Live Casino works
So how is this possible? Well, thanks to advancements in internet speed and the quality of video technology. Now South African casino sites are able to offer a live real time experience. It isstreamed direct to your home through your internet connection.
Live online casinos involve real human dealers sitting at real tables. They interact with you and other players using live video streaming. As long as you have a webcam, you and the dealer can see each other and interact. You play the game and they carry out the actions that a dealer in a real casino would perform, from shuffling cards to spinning the roulette wheel.
Meeting and interacting with other people is also part of the real casino experience and this is recreated with live casino. You can interact with other players through your webcam and the live chat window. So you enjoy all of the human contact, the thrills and the excitement that comes with a real casino. Without the need to crowd round the table to grab a spot!
Many people who love the atmosphere of a real casino feel that there is a human, physical element missing with regular online casino games. With a live casino, you can see and hear the sights and sounds of the casino. From the rattle of the spinning roulette ball, to the sound of a crisp new deck of cards being shuffled and dealt. With just a webcam and an internet connection. Live casino brings the online casino experience to life.
What games are available with live casino?
Live casino gaming has become increasingly popular. Big gaming software companies like Playtech and Microgaming have developed state of the art live casino technology. This lies behind most of the successful live dealer rooms in South Africa.
South African live casino usually offers all of the most popular casino games. Live blackjack and live baccarat are particularly popular. As with a live casino, you can see and hear the cards being dealt, which makes it the most realistic way of playing these card classics online.
Roulette is also a staple of live casino gaming in South Africa. Most South African casinos will offer both the European and American version of this perennial favourite. Depending on which casino you use, you may be able to try Immersive Roulette. It relies on multiple camera angles and the latest high definition video to provide the ultimate in interactive live online Roulette. Some South African live casinos also offer less familiar casino games such as live Sic Bo or scratch card games. Also new style games are popular like Lightning baccarat,Lightning roulette,Live craps,Mega Wheel and Deal or no Deal.
One thing to remember with live casino is that you need a good, fast internet connection. These games rely on the latest in video streaming technology. If your connection is a little slow, you may find that you can't enjoy the full live casino experience. For most people, though, their internet connection will be sufficient to enable them to enjoy the games.
What kind of bonuses are on offer with Live Casino?
South African casinos are keen to attract customers to their live casinos. In most cases they will offer a range of attractive bonuses to entice to you play. The most common kind of bonus is the welcome bonus, which is aimed at new players. It rewards them with either a specified cash amount or a percentage of their initial deposit.
You may even find that some casinos will offer you bonuses that do not require you to deposit any money. While referral bonuses are available for players who bring in new customers. There are so many live casino bonuses available with South African casinos that it is worth shopping around. Find the most attractive before you join up with any site.
How does online payment work with Live Casino?
The live casino market is becoming competitive so South African casinos are keen to offer their players many different ways to play. South Africans are spoilt for choice when it comes to payment methods. You can deposit or withdraw funds using your bank card or credit card, Easy EFT and SID Instant EFT. Also through e-wallet systems such as, Skrill and Neteller. All are safe and secure to use with South African live casinos.
South African casinos are accepting Rand for their deposits. This makes it easier for South African players to sign up with them and make deposits. If you find a casino that accepts deposits in Rand, they will also allow you to withdraw in the same currency. This is extremely convenient for South African players. If a live casino doesn't accept Rand, it is usually possible to exchange your local currency into another currency online.
Customer support for Live Casino
Most South African casinos understand the importance of providing good customer service to their players. Particularly if they are new to live casino. South African live casinos usually offer 24/7 support in English to all South African players. It is generally easy to access this assistance via a toll free number. Also using email or the live chat feature. When you're playing live casino games, you may also be able to obtain help and advice from the live dealers during the play. Something that you wouldn't be able to experience with regular casino gaming!
Brand new online casino
Bonus up to R22,500
Exclusive 180 free spins!