Welcome bonus
The South African online casino market is competitive these days. South Africa casino operatorsare having to offer ever-more enticing bonuses to attract customers. Since new customers are a sought after commodity, many of the best bonuses are offered in the form of welcome bonuses. They are given to players who sign up with a site for the first time, with some of these welcome bonuses being worth up to R32,000.
Estimated reading time: 3 minutes.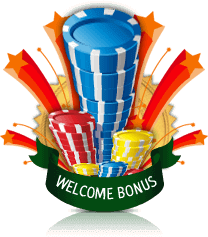 Choose a great South African casino
What is a welcome bonus?
A welcome bonus is offered to entice new customers to an online casino. Welcome bonuses have become so common that it is rare to find a casino that doesn't offer them to new players.
The bonus is usually given in the form of a deposit bonus, which is released after the first deposit is made into a player's online casino account. The player is given a code on registering with the site, and the code is entered at the time of the first deposit, releasing the bonus. Sometimes the welcome bonus is divided up and released in instalments at the time of the first, second, third or fourth deposit.
Some casinos offer variations on the welcome bonus. They offer more attractive welcome bonus packages for high rollers or for those gamers who use download or instant play mode. This in an attempt to encourage players to bet larger amounts or to use the casino's instant play application or its download client. You may also find that casinos offer a second welcome bonus once a player has 'played through' their first welcome bonus.
Welcome bonus conditions
Although the welcome bonus can be a significant attraction for new casino gamers... it is important to note that you can't withdraw the bonus amount immediately.
Most casinos will put attach a play-through requirement to their welcome bonuses. This is also known as a wagering requirement. This requirement will state that you have to wager a certain amount on the casino's games before you can withdraw any funds. This includes your welcome bonus. The wagering requirement is usually quoted as a multiplier. So, for example, if the wagering requirement is x20 then you will need to wager your original deposit multiplied by twenty. Afterwards you can withdraw your funds.
It's important to remember that this doesn't mean that you have to lose this amount. This only means that you have to wager it. So, for example, if you deposit R100 and receive a welcome bonus of R100 with a wagering requirement of x20. Then you will not be able to withdraw your bonus until you have wagered R100 x 20 = R2000 on the casino's games.
At one time the usual wagering requirement or play-through was x25 but that figure has been increasing. Multipliers of x30 or x40 are now typical. Some casinos have also attempted to apply the wager requirement to the bonus itself. By significantly increasing the amount you have to wager before you are able to withdraw, although this is less common.
Welcome bonus percentage contributions
There is a further complication to bear in mind when considering welcome bonuses. Most casinos will attach a wager requirement to their welcome bonuses. But they will also restrict the extent to which some games can contribute towards that requirement.
For example, while any stake wagered on slots will usually count 100 percent towards the wagering requirement. Table games such as Roulette and Blackjack often make a much smaller contribution, perhaps as low as 10 percent. The reason for this is that these games offer a much lower edge for the casino. So they generally prefer you to play other games which are more profitable for them.
Different casinos apply different percentage levels to table games. So it's a good idea to compare one operator with another when choosing between welcome bonuses.
Brand new online casino
Bonus up to R22,500
Exclusive 180 free spins!