Tennis betting
Tennis is one of the world's most popular sports, played and watched by millions, and it is no surprise that it has become a favourite with online sports bettors in South Africa. But if you're new to tennis betting, you might have a few questions about how it works and what to look for, so to help you get started, we've put together a comprehensive guide to betting on tennis online.
Estimated reading time: 5 minutes.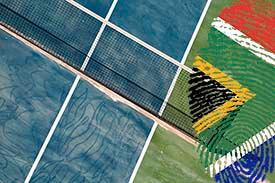 How to Bet on Tennis
Modern sports betting companies are competing in a crowded marketplace and because they are keen to attract new players away from their rivals, it is in their interests to make it as simple as possible for sports betting fans to find and place their bets.
But before you can bet on the tennis match of your choice, you first need to register with a sports betting site. Many tennis bettors sign up with more than one company so that they have a range of odds to choose from. This is easy to do because the sign-up process is usually the same no matter what site you register with. Simply click on the Sign Up or Register icon, complete your personal details, add your preferred banking method, then make your first deposit.
The process of making a bet is also straightforward. Most tennis betting sites will offer a simple navigation tool, usually organised alphabetically, so you can quickly find the tennis event and market you are looking for. When you click on your selection, it will appear in the online betting slip, and all you then have to do is add in your stake and confirm your bet.
Tennis Odds
Odds are the lifeblood of betting. They tell you how much you can win from your bet, and also indicate the probability of a particular event happening, according to the bookmaker. For example, odds of 5.0 for Roger Federer to win a tournament indicate:
- Your returns on this bet would be 5 times your stake
- Roger Federer is rated as a 20% chance by the bookmaker
South African online tennis betting companies usually display their odds in this form, which are known as Decimal Odds. To work out your potential return, you simply multiply the stated odds by the stake you intend to wager. You may also come across Fractional Odds. These calculate your profit rather than your return. For example, Decimal Odds of 5.0 would be written as 4/1 in Fractional Odds form.
Match Betting
Betting on the outcome of individual matches is by far the most popular way to bet on tennis. One of the advantages that tennis betting has over some other forms of sports betting, such as football betting, is the absence of the draw. In a tennis match bet, there are only two outcomes. This makes it harder for bookmakers to hide their profit margins and simplifies the analysis for punters.
There are many factors to be considered when making a bet on a tennis match. The ability of the players involved will obviously be a key consideration, but form, injuries and head-to-head records are also important. And in tennis, unlike some sports, the surface on which it is played is a major factor. Tennis is played on grass, hard court or clay surfaces, but very few players are able to master all surfaces and tennis punters take time to get to know each players' preferences.
The disadvantage with tennis match betting is that with only two outcomes, the odds on favourites can be low. For this reason, if they want to bet on the favourite, many tennis punters like to combine their bets with others into multiple or combination bets that offer bigger odds, though the downside with such combinations is that if one selection loses, the whole bet fails.
Tournament Betting
Another popular tennis betting market is Tournament Betting. With tournaments taking place on both the men's and women's Tours every week, there are plenty of tournament betting opportunities throughout the tennis season. One of the advantages of this type of betting is that by looking at the draw, you can work out whether a player has an easy or difficult path through the tournament. Sports betting companies also offer each-way options in tournament betting. By betting each-way on a player, you can still profit if they reach the final but don't win the tournament, as an each-way bet will typically pay out around 1/3 or 1/4 of a player's odds for getting to the final.
Live Betting
Live betting is one of the most popular tennis betting options for South African betting fans and provides an exciting way to profit from the sport, for those who can learn the necessary skills.
Most tennis betting sites will offer a range of live betting markets, including Next Game Winner and Next Set Winner, while the Match Winner live betting market will fluctuate throughout a match according to how well each contender is playing, offering opportunities for quick-thinking punters. Most sites will also provide updated statistics throughout a match, to help inform your betting, and some will even provide live streaming footage of the match through their site.
But while live betting on tennis can be exciting, it can also be risky. The odds move quickly with in-play betting, giving you less time to plan your bets. In addition to being able to think quickly, most in-play tennis bettors have well-rehearsed strategies and do their homework before they start to bet.
Conclusion
Tennis betting is becoming increasingly popular in South Africa. It can be a harmless way to add a little extra entertainment to an exciting sport, or for those prepared to put in the work, it can become a profitable enterprise. And thanks to the internet, South Africans who want to bet on tennis can choose from a diversity of tennis betting sites, offering a bewildering array of markets and betting options for every tennis betting fan, whatever your level of experience.