Video poker
One of the most popular online casino games played in South Africa is video poker. A cross between a slots title and a traditional game of poker, online video poker is an attractive casino gaming option as it combines a low house edge with the element of skill and the possibility of big pay outs.
So how does video poker work?
Estimated reading time: 4 minutes.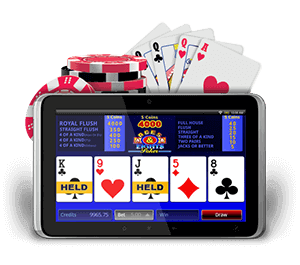 Choose a great South African casino
The basics of video poker are derived from the standard poker rules. The purpose of the game is to build the best possible hand using five cards. All the cards in the deck are valued from King down to two with the Ace representing the highest or lowest value, according to context.
At the beginning of the game, you place your bets, which usually range between one and five coins. You will be dealt five cards from the deck. In most cases the deck will be the standard 52 cards, though some video poker variants include the jokers. When your hand has been dealt, you can choose to keep or discard any of the cards by clicking or not clicking on the hold button beneath each one. When you are ready to proceed, you press the deal button. At this point, the discarded cards are replaced and if you've won, you will receive the relevant Rand payout, based on the pay-table figures and your initial bet.
The hands are ranked in order of value, and in standard video poker, the rankings follow those of the table game. The Royal Flush – consisting of an Ace, King, Queen, Jack and Ten from the same suit – is the most valuable with the One Pair hand being the least valuable.
Video Poker Variations
There is a number of interesting video poker variants available at South African online casinos, and it is worth checking them out to find the version that best suits you.
The most common variant is Jacks or Better. In this game, the minimum hand that pays out is a pair of Jacks, and the player gets an even money payout for a pair of Jacks or higher. Deuces Wild is another popular variant, which employs the standard deck. In this game, the deuces (or number 2s) are wild cards and the minimum winning hand is three of a kind.
Double Double Bonus is a video poker variant designed to offer bigger payouts for lower value hands. In this variant, you can earn a win of up to 2000-1 if you line up four Aces with a low value card. Although this payout is half what you would earn with a Royal Flush, its still a bigger payout than you would usually find with a Four of a Kind hand in most variants.
If you're looking for a really big video poker payout, then look for Progressive Poker games. These are generally Jacks or Better variants, in which a small percentage of each bet made goes towards a jackpot pool, which builds steadily over time. Although with these video poker games, the payout for a full house or a flush is lower than with normal versions, players have the chance to land a big jackpot, which can build up to a considerable sum.
Gaining an edge with video poker
One of the advantages of playing video poker is that it has one of the lowest house edges you will find in the online casino gaming world. For example, the most common version of the game – Jacks or Better – has a house edge of 0.46%. This is only slightly worse than the typical edge for Blackjack and is considerably better than games such as Baccarat.
In fact, with some versions of video poker, you can sometimes have a small edge over the casino if you use an optimal strategy. This element of skill makes video poker a more attractive option for experienced gamers than purely luck-based slots games. By taking the chance to practice in free mode (an option offered by most South African online casinos) you can sharpen your technique. Make sure you do this before switching to real money games.
Conclusion
Thanks to its combination of the skill-based elements of poker with the speed, fun and convenience of a slots game, video poker is extremely popular. Loved by South African online casino gamblers and its low house edge also helps to make it a smart choice for shrewd players. The wide variety of variations on the standard game also means that there should be a video poker version to suit any playing style.