Casino games
Online casinos offer South African players an incredible choice of games. All available with high-definition, immersive technology, that can be overwhelming to casino gaming newcomers. In this section, we offer tips and advice on how to play three of the most well-known casino games. These are Roulette, Blackjack and slots. Players will learn the rules of these games and how to play them through online casinos. Because even casino regulars can benefit from bushing up on their gaming strategy. We offer advice on strategy and tactics that can help players to maximise their wins and minimize their losses.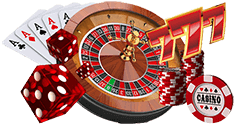 Roulette
Roulette is probably the most famous casino game in the world, synonymous with the unique casino atmospheres of Las Vegas and Monte Carlo. Our guide on How To Play Roulette Online explains where the game comes from how, how the online version differs from the original. It also outlines how the game is played. Running through everything from the layout of the roulette wheel to the range of possible bets, and the process of wagering.
The guide also lays out the variety of online Roulette games available to South African players. From standard French, American or European Roulette to exotic variations such as Mini Roulette and Two-Wheel Roulette. When it comes to Roulette strategy, there are tips that can help players to improve their chances. We discuss these, including the importance of staking plans and taking advantage of online casino bonuses.
Blackjack
Many people are familiar with the game of Blackjack. But while the game may be simple at its core, there are many available varieties of Blackjack. Specially for South African online casino players to try and our guide on How To Play Blackjack Online lists some of the most well-known variations. This includes European Blackjack, Atlantic City Blackjack and Super Fun 21.
Although the game is simple, online Blackjack terminology can be confusing to newcomers. Our guide runs through the most common examples, explaining what terms such as Push, Split, Insurance or Double mean. Finding ways to reduce the house edge is the key to success at online Blackjack. Our guide also offers advice on important elements of Blackjack strategy, such as when to choose Surrender or Double. Or whether to take side bets, and whether two deck or eight deck games are preferable.
Slot machines
Without doubt, the most high profile games available in online South African casinos are the slots. South African players have access to hundreds of titles. Many of them featuring immersive 3D graphics and video technology. Our guide on How To Play Online Slots goes through the four main kinds of online slots that South African players will encounter. It outlines the differences between Three-Reel, Five-Reel, Video Slots and Progressive Jackpot games. As well as explaining the basics of how to play online slots games.
Our guide sets out the important difference between online slots and original slots. It explains why players can trust the outcomes of online slots games. For those who want to take their play to the next level or who want to brush up on their technique, the guide also offers some helpful advice on slots strategy. It covers such areas as the importance of looking out for bonuses, practicing in free mode, studying the pay tables and managing your bankroll.
Craps
Craps is one of the world's oldest forms of gambling. For centuries, players have taken their chances on the roll of two dice. In the twenty-first century, craps became one of the first traditional table games to make the switch to the internet. Now most South African online casinos offer a craps variant and the game remains as popular as ever.
The basic principles of craps are straightforward. From the simple act of throwing two dice, it is possible to make a range of exotic bets, all of which are laid out on your screen. Although some of the jargon associated with craps is unusual and takes a little adjusting to, once you are familiar with the terms, you will find it easy to follow the play. It isn't necessary to understand all of the various bets to get started with online craps. Many South African players play the game using only one or two bet types.
One of the great advantages of playing craps online is that most South African online casinos offer help and tips. They guide newcomers, enabling you to learn as you play. And of course, you will usually be able to try the game in free or fun mode to learn more. With the ability to play craps online on your desktop or mobile device, it's never been easier for South African players to enjoy this perennial gambling favourite.
Video poker
Video poker is a favourite with many South Africa online casino players. It is enjoyed by newcomers and experienced players alike. It offers a distinctive blend of the traditional and the modern. By combining the possibility of large payouts with a low edge for the casino and an all-important element of skill.
The basics of video poker are straightforward and will be familiar to anyone who has ever played traditional poker, with the aim of the game being to assemble the best possible poker hand – ranging from High Card to Royal Flush – using your judgement to decide which of your starting hand of five cards to discard and which to hold.
One of the attractive aspects of online video poker is the wide range of variations available on the basic game. South African online casino players have access to an impressive selection of video poker variants. Ranging from the ever popular Jacks or Better to Deuces Wild and Double Double Bonus. If you're looking for a life-changing win, there are even Progressive Jackpot Video Poker variants, offering truly enormous prizes.
If these variations appear confusing, it's important to remember that at most South African casinos, you will usually be able to play the game for free or in fun mode. The best sites offer helpful tutorials or explanations of the jargon used in the game. This to help newcomers learn how to play. With its combination of skill, traditional poker and dynamic slots action, video poker is one of the most popular online casino games in South Africa.
Sportsbetting
Sportsbetting is becoming more popular in South Africa then ever before. You can bet on all kinds of sports like Hockey, Tennis, Football and more.
These helpful articles will help you to get more out of your online gambling. It will hopefully help you to minimise your losses and maximise your winnings when you play online Roulette, Blackjack and slots with South African casinos.