No deposit bonus
As the South African online casino market continues to grow, casino operators are always on the look-out for ways to attract new players. Bonuses offered to customers who sign up to a casino site for the first time are common. One of the most popular forms of this incentive is the no-deposit bonus. This is a small but useful bonus offered by most online casinos.
Estimated reading time: 3 minutes.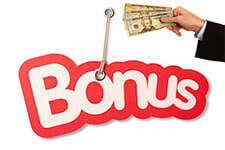 Choose a great South African casino
What is a no-deposit bonus
A no-deposit bonus is awarded to new players when they register a real-money account with an online casino. The bonus is generally a set amount, which you can generally use to play all of the games on the site, although the range of games you can play may vary. With some casinos, the no-deposit bonus comes in the form of free spins for specific slot games. It's also important to remember that this bonus is only available to players who have set up an account but who have not yet made a real money deposit.
Although no-deposit bonuses are small, generally amounting to between R150 and R300 they do give you the chance to build up your betting bank. This without having to deposit any of your own money. A no-deposit bonus also gives you a chance to get a feel for the way that a site works. It can serve as a useful middle ground between playing for free and playing with real money.
How to claim a no-deposit bonus
The process of claiming a no-deposit bonus is straightforward although it can vary from site to site. In some cases, the no-deposit bonus will be credited to an account at the point at which they register. Some online casinos will require players to input a special bonus code when they register. Others ask new players to send an email containing their bonus details to the customer service team. Players who join up with a casino via an affiliate link will be expected to use the no deposit coupon code they were given by the affiliate site.
No-deposit conditions
While no deposit bonuses are an attractive incentive for new players, it is important to remember that they cannot simply withdraw the bonus when they receive it. No-deposit bonuses come with terms and conditions. It usually requires the player to 'play through' the bonus amount several times. As well as making an initial deposit, before they can withdraw any funds won through using the bonuses.
The play-through requirements are set as multiples and are usually in the range of 60x the bonus amount. So before you can withdraw the bonus and any money that you used by wagering with it, you need to wager a total amount. This is equal to sixty times the bonus. You are also usually required to make an initial deposit before withdrawing any bonus funds.
In addition, new players attracted by no-deposit bonuses should be aware that not every game on the casino's site will count fully towards the wagering requirements. Typically, table games such as Blackjack and Roulette will only count 20 percent. Slot titles are more favourable. Generally, any money wagered on these games counts 100 percent to the play-through total.
The existence of these requirements attached to no deposit bonuses make it important for new players who are considering signing up to a site to carefully read the relevant terms and conditions. By doing this they are fully aware of what they need to do to access their no deposit bonus. Regardless of the wagering requirements, no-deposit bonuses are attractive for new casino players. It offers a good opportunity to build up a significant bankroll. This while learning how the casino operates and how to play the various games it has to offer.