Casino software
The growth and development in online casino gaming in South Africa and around the world has been fuelled by the technological innovation of software development companies. Names such as NetEnt, Playtech and Microgaming have been synonymous with the production of cutting-edge online casino games. They have provided millions of hours of entertainment for South African casino gamers. As the casino gaming industry has grown, innovative newcomers such as RTG and Rival have helped to push back the boundaries of what was previously considered possible with these games. New developments such as HTML5 and mobile casinos have added speed and convenience to the casino gaming experience.
Estimated reading time: 4 minutes.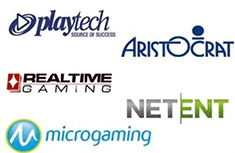 In this section, we look at some of the major players in the casino software industry. Their products power some of South Africa's most popular online casinos. They help to make online casino gaming in South Africa the rich, rewarding pastime it has become. We also take a look at HTML5 and mobile casino gaming. We examine how these new technologies have shaped the experience of online gaming for South African players.
Software providers
Microgaming is one of the oldest casino software developers in the world. From its humble beginnings in the mid 1990s, it has gone on to build up a reputation as one of the industry's foremost innovators. Shaping the modern online casino gaming world more than any other player. Our guide to Microgaming Casinos looks at the company's many innovations. This goes from CheckTeck to progressive jackpots. It examines the many games and features offered by Microgaming Casinos.
Another familiar online casino name is Playtech, providers of some of South Africa's most popular casino games. Famous for its range of immersive licensed slots themed around blockbuster film and TV shows. In our guide to Playtech Casinos, we detail Playtech's rise to dominance. Furthermore we take a closer look at the customer support and range of titles available at Playtech Casinos.
Swedish software developers NetEnt have been around since the mid 1990s. They have their origins in land-based casinos. Their expertise has been focused on the development of some of the online gaming industry's most eye-catching slots titles. Incorporating state-of-the-art graphics and cinematic sound effects. In our NetEnt Casino guide we take a look at the qualities that make NetEnt Casino games so entertaining. We examine the reasons why so many South African gamers choose to play at NetEnt Casinos.
RTG is well-known for their table and card games. The company has built up a strong following among South African casino gamers. They are known to appreciate the rapid and customisable game-play offered by RTG Casinos. In our guide to RTG Casinos we examine the bonus, features and technology that have established RTG's reputation.
One of the newest kids on the casino software block, Rival has wasted no time in carving out a reputation as one of the best companies in the industry. In our guide to Rival Casinos we reveal the reason for their reputation as innovators. Including their pioneering iSlot technology and the headline-grabbing progressive jackpot games. These games have encouraged millions of casino gamers all over the world to try their luck in search of a life-changing win.
Beside these providers you have a few more little ones that create great games. A few examples are SkillOnNet, Pragmatic Play,Novomatic,Play 'n Go, Amatic, Aristocrat,Merkur,Quickspin and the popular Betsoft.
HTML5 and Mobile casino
A key technological breakthrough in the evolution of online casino gaming was the development of HTML5 technology. This made it possible for online casinos to work with all devices and operating systems. This brought an end to the endless compatibility issues that had previously plagued the online casino industry. Our guide to HTML5 Casinos gives you the lowdown on the growth and benefit of HTML5 Casinos.
South Africa boasts the highest uptake of mobile technology in the whole of Africa. This rapid spread in the use of mobile devices has had a major effect on the online gaming industry in South Africa. Our guide to Mobile Casinos examines how online casinos have had to adapt to offer their games to the new breed of smart phone-using South African gamer. It explains how mobile casinos work and what the discerning online gamer should expect. HTML5 sites work fine with Mac and Android devices.
The technological innovations examined in this section have brought about a revolution in casino gaming. By making it possible for South African online gamers to enjoy a fast, interactive, immersive casino experience in their own homes. With many more innovations to come, the future of online casino gaming in South Africa promises to be an exciting one.