Quickspin
Quickspin are one of the newer developers on the iGaming market. It was set up in 2011 and since then has worked hard to claw its way up the ladder. While there are other big name developers closer to the top of the market than Quickspin, it has still managed to undergo a sustained period of growth and has grown at a fast rate. In fact, within two years of being set up Quickspin actually had a video slot win the coveted game of the year award. It means that it was able to make a name for itself very early on. This allowed it to grow faster than it might have been able to otherwise. It currently operates as one of the most well regarded developers outside of the "big two" within the industry. It essentially means that after Microgaming and NetEnt, Quickspin is the next in line as a top developer. Quickspin was acquired by Playtech in 2016, but minimal changes were made to operations which allowed it to keep moving forwards. It keeps its reputation growing with an almost never ending stream of high quality titles that players love.
Estimated reading time: 5 minutes.

Choose a great South African casino
What Makes Quickspin So Good?
1. High quality features
2. A small but high quality selection of games
3. In game achievements adds gamification
4. Wide range of different slot styles available
Best Quickspin Games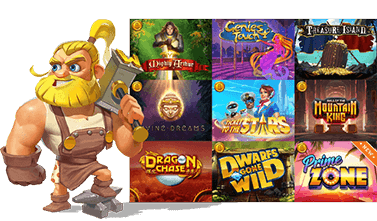 1) Big Bad Wolf
2) Loco the Monkey
3) Titan Thunder: Wrath of Hades
4) Hammer of Vulcan
5) Vampire Senpai
Quality of Software - Graphics and Sound
Quickspin has a really interesting graphics style that it uses for its games. While a lot of slot companies use a mix of realism and cartoon style for graphics, Quickspin takes a slightly different route. It tends to use graphics that provide an almost 3D level of depth to them. There is almost a cell shaded look to the graphics that are on show for Quickspin games. It means two main things. Firstly, that the graphics have a very distinctive look to them. Secondly, they are absolutely gorgeous. This means that players are always in for a visual treat when they are playing a Quickspin title.
Of course the animations are on a similar level. While the backgrounds usually tend to be static, the reels can be a hive of activity. The graphics are always animated superbly so players don't have to worry about characters that shudder across the screen or reels that look as though they are suffering from some horrendous slowdown.
It means that Quickspin titles regularly take players on a really enjoyable journey. They look great and they move on the screen wonderfully. If you're a fan of immersive video slot titles then the Quickspin roster is definitely one of the best around.
Sound
The sound quality is also very high. Quickspin has worked hard to make sure that players are not disappointed with the music and sound effects in its games. It means that generally, the background music that's on offer fits in perfectly with the theme of the game. So if you're playing a Wild West game, you won't get Asian inspired music playing.
This all comes together to provide a fantastic aesthetic experience when playing Quickspin titles. Players know that the visuals and sounds will be working together to give players something enjoyable. It is a work ethic that has allowed Quickspin to become one of the most respected developers in the market.
Quickspin Games
Quickspin has developed a reputation for creating high quality video slots. While it doesn't have the fast paced release schedule that some other developers have, it is known for only releasing games that are at the highest level. It does mean that the roster of titles is a little bit below what some other developers have put out in terms of numbers. However, in terms of overall quality there aren't many developers that can match up to the Quickspin output.
Quickspin is also completely devoted to its slot output. It does mean that players aren't able to enjoy any other types of casino game from the company. This doesn't just extend to table games, it also covers progressive jackpot slots as well. It does mean that Quickspin is a little bit behind some of the bigger names on the market in terms of game variety. Part of the reason behind this is that Quickspin believes that it should focus on what it's good at in order to keep the quality of its slot titles as high as possible.
Does Quickspin offer live dealer casino games?
At this moment in time Quickspin doesn't offer live dealer casino titles. This is because it is dedicated to creating the highest quality slot titles it possibly can. As such it doesn't deviate from this area of game creation. It's unlikely that Quickspin will begin creating live dealer games in the future.
Does Quickspin offer a free trial version of its titles?
There are demo versions of Quickspin titles available. These can be played both at online casinos and through the Quickspin site. It means that if you are unable to play a demo version of a Quickspin title at your favoured online casino, you will be able to find and try the game at the Quickspin website. It allows players the ability to try games out and start to work out how to play them without having to spend real money to do so.
Does Quickspin have a regulatory license?
Quickspin has a number of regulatory licenses in place. As one of the most trusted developers on the market it adheres to a number of different regulations. This means that players can be fully confident that they will be treated in a fair manner when playing Quickspin titles. It also means that Quickspin follows a number of different legislations that relate to keeping players safe.