Land Casinos
South Africans love to gamble. There are plenty of land-based facilities that give South African gamblers the opportunity to enjoy the full casino gaming experience. The most popular and highly rated land-based casinos are usually found in the major cities of South Africa. Most often in Johannesburg, Cape Town, and Durban.
Not only do South African land casinos cater to local customers, but they have also become an important part of our tourist industry. Many of the best land casinos are located near well-known tourist attractions, from museums and historic buildings to beautiful beaches. But also sports stadiums and the bustling cosmopolitan surroundings of cities such as Johannesburg.
The thriving land casino industry means that most South African players will be able to find a venue near to them. In addition to offering top quality casino gaming facilities, many of these casino complexes also provide entertainment such as theatres, restaurants, nightclubs and more. Some do even have five-star hotel accommodation.
So to help you get the most out of your visit to a South African land casino, we've put together this brief guide to what to expect and what you should look for.
Estimated reading time: 4 minutes.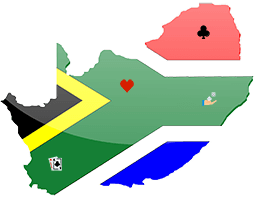 Casino Games Variety
The best land casinos offer hundreds of slots games and dozens of table game options. These will often include the latest in high-tech video slots, and several variations of popular table games such as Roulette and Craps, along with a scattering of rarer games. The minimum stake will vary from casino to casino. But the best land casinos offer a wide range of staking options, making the games accessible to players of all levels.
Casino Facilities
It's important to be comfortable when you're at a casino, so most South African land based casinos will offer a variety of customer-friendly services and features. They include separate smoking and no-smoking gaming areas, VIP sections and more.
Eating and Drinking
Even the keenest casino gamer needs to take a break from time to time, which is why many land casinos will make available a wide array of dining options. From top class restaurants, to convenient fast food areas. Some casinos also have nightclubs and bars attached. This enables you to relax and unwind with friends after a few hours on the casino floor.
Entertainment and Accommodation
To get the most out of your time at a South African casino, you may want to spend a few days there, in which case, you'll be interested in the accommodation. Some of the best land based casinos will have hotels attached. In many cases more than one, offering luxury or more affordable accommodation, enabling you to prolong your visit.
Some casinos are in fact genuine holiday destinations and offer a multitude of entertainment options. From theatres and comedy clubs to pools, luxurious gardens, shops and museums, giving you plenty to do when you want to step outside the casino.
The Best of South African Land Casinos
South Africa is home to many highly-rated casinos, and it would take too long to list them all! Here are three of the most popular and well-regarded land sites in the country:
Emperors Palace
One of the most famous land casinos in the country, the Emperors Palace is owned by the well-known Peermont Global Limited and is a world class gambling venue. It provides an impressive array of casino games amid opulent architecture. It also provides top class accommodation and a variety of absorbing leisure activities.
Gold Reef City
Operated by the international leisure group Tsogo Sun, Gold Reef City Casino has an international reputation. Boasting 1500 slot machines and over 50 table games, it is a prime example of a modern casino complex that is also a desirable holiday resort.
Montecasino
An award-winning casino complex, the Montecasino has been designed to a traditional Tuscan village theme and offers a modern, high quality gaming experience in stunning surroundings. Completed with bountiful leisure and accommodation options.
Conclusion
All three of the casinos above are excellent examples of what the modern South African land based casino has to offer. From an enormous choice of gaming options to a bewildering array of dining, leisure and entertainment venues. So what are you waiting for? Head to one of these top venues and find out what South African casinos have to offer.
Las Vegas
Nothing goes above the best known gambling city in the world, Las vegas. Check out our guide for South Africans that are traveling to Vegas!