Gold Reef City casino
Gold Reef City Casino is one of South Africa's best known casino resorts. Owned by the international entertainment and leisure group Tsogo Sun, who have a portfolio of 13 casinos and 100 hotels across Africa, the Seychelles and the Middle East. It is an international tourist attraction that draws visitors from around the globe.
Gold Reef is ideally located in Ormonde, Johannesburg (Northern Pkwy, Ormonde, Johannesburg South, 2159, South Africa). It is just 10 minutes away from the city's business district and 20 minutes distance from Sandton City. With easy access to the highway network, and only half an hour from Tambo International Airport. It is in the perfect location for both local and international visitors.
Estimated reading time: 4 minutes.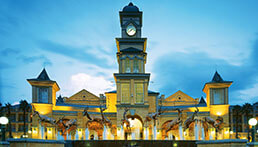 The Casino
For casino fans, the most important part of any casino resort is the quality and range of games on offer, and Gold Reef City scores highly in this area. The casino itself has an impressive 1500 slot machines available and more than 50 table games. The roster of games ranges from the latest video slots to high-paying progressive jackpot games. In the table games area, all of the main varieties of Blackjack and Roulette are represented.
Card games fans will be particularly happy to find both Raise 'Em Poker Xtra and Baccarat - not available at many land-based casinos in South Africa. Gold Reef City customers can also take advantage of a number of promotions that give you the chance to win generous prizes including car giveaways and other top rewards. With 24 hour gambling, ample facilities for non-smokers and smokers, and a luxurious private area that includes private tables and slots games, there are few more complete casinos in South Africa.
Facilities
Modern casino visitors expect to be able to get a bite to eat without having to leave the complex. Gold Reef City has plenty of food options for the hungry gamer. For speed and convenience, there are seven fast food outlets available. For example KFC and Steers, and for those with a little more time, there are 14 separate a la carte restaurants. They offer an impressive variety of cuisine from Portuguese to local dishes.
While this array of dining options will be enough to keep most customers in the complex, the fact that is located fairly centrally in Johannesburg means that all of the cities restaurants, bars and eateries are also easily accessible.
Hotel Accommodation
Casino guests who want to stay for a few days have two hotels to choose from at Gold Reef City. The Southern Sun Gold Reef City is the perfect high end option for guests who want a little more luxury. There are only 40 rooms available at this hotel. The staff is able to devote their energy to providing the complete personal service for their guests.
The Gold Reef City Theme Park Hotel is a better bet for families. It is presented with a mining town theme, and offers a relaxed atmosphere. With 75 rooms available, there is plenty of space, and, like the Southern Sun, it is just minutes from the casino.
Entertainment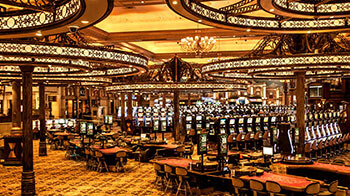 After a few hours gaming, guests can choose from a variety of leisure activities, from bars to ten pin bowling. The complex includes a 6-screen cinema and there is a 1,000 seat theatre that regularly stages rock shows and comedy nights.
For a change of pace, there is the fascinating Apartheid Museum, located down the street from the casino complex. It offers a detailed and revealing look at the troubled history of South Africa. When you are likely to come away from a visit with a much better understanding of this country and the obstacles it has overcome over the decades.
Finally, the complex also includes multiple shops, an arcade, swimming pool and conference centre. There's even a chapel and a wedding venue if you're looking for somewhere unique to make that special commitment to your partner!
Conclusion
Gold Reef City is perhaps the most successful example of a casino complex that doubles as a hotel resort. In fact, it is possible to spend days there without ever setting foot on the casino floor, although that would be a waste! With a huge selection of slots and table games and a gaming environment that would not be out of place in Las Vegas, Gold Reef City offers one of the most luxurious and enjoyable casino gaming experiences in the country.