Free spins
As with real world casinos, online casinos have an advantage over players, so anything that can improve your chances will be a big help. Any South African casino player who plays online will come across Free Spins, and they can be a great way of boosting your profits.
As the South African casino market is competitive, online casinos are trying to offer ever-more enticing bonuses. Free Spins are a major weapon in the fight to attract new customers and retain old ones. In some cases, Free Spins can be regarded as the next best thing to free money! With some Free Spin offers, players are able to withdraw the money they win with their Free Spins straight away. In most cases, however, winnings earned from Free Spins have to be re-staked a number of times before you can cash out.
Estimated reading time: 4 minutes.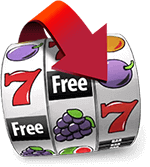 Choose a great South African casino
How do Free Spins work?
Unlike the range of money bonuses offered by South African casinos, which can be used on any games, Free Spins are obviously only used for slots titles. Usually the most popular titles, and in some cases are only available for a particular game.
There is a huge variety in the range of Free Spin offers. You can pick up anything from 10 to 250 Free Spins. It is worth remembering that the face value of a Free Spins offer does not translate to a cash equivalen. Instead to a certain number of spins at the lowest coin value for that game with the maximum number of paylines active, which can be anywhere between R0.10 and R5.00 for one spin. This depends on the game.
When you have used all of your Free Spins, any money that you win will usually be treated as bonus mone. Unless the terms of the Free Spin offer state that your winnings can be paid out as cash. As your winnings are considered to be bonus funds, you will need to wager this amount several times before you can withdraw it. This condition is known as a playthrough requirement and will vary from offer to offer. It is important to read the terms and conditions of any Free Spin offer before you play.
Free Spin variety
The variety of Free Spins offers available with South African casinos is wide and can be confusing. Most online casinos offer a range of Free Spins promotions for new and existing customers. It is worth taking the time to find a Free Spins offer that fits your betting bank and your playing style. When making this decision, there are a number of factors you need to consider. This includes whether you are better suited by No Deposit or Deposit Free Spins. These are the two main categories of Free Spin offer, although South African online casino players will also come across other promotions. They include promotions such as Free Spins linked to big sports events.
No Deposit Free Spins
As the name suggests, a No Deposit Free Spin grants a player a number of spins without having to deposit any cash. No Deposit Free spins usually come in two forms. The first type are offered to new customers as part of their signing up package. While the second are given to long-term players as a recognition of their loyalty and in order to keep them coming back to the site. No Deposit Free Spins offers usually come with very few conditions or playthrough requirements and as you would expect, are extremely popular.
Deposit Free Spins
The majority of Free Spins offers depend on a player making a certain level of deposit, known as a qualifying deposit. The terms and conditions of the Free Spin offer will specify the level of the deposit required. Along with any playthrough requirements. Most Deposit Free Spin offers are available for either new or existing players, although some South African online casinos are making their Deposit Free Spin offers available to all players.
Can you use Free Spins with mobiles?
In recent years, South Africa's online casinos have had to adapt to the rapid growth in the use of mobile technology in the country. Any modern casino business that offers a Free Spin deal should make the same offer to customers using mobile technology. Many casinos offer either a dedicated site for mobile players, or an app that can be downloaded by iOS, Android and Windows users. As long as you have access to a reliable internet connection, you should have no difficulty taking advantage of Free Spins offers using your mobile device.
Conclusion
Whether you prefer to access your favourite casino via desktop in your own home or through a mobile device. You should be able to take advantage of the many competitive Free Spins promotions offered by modern South African casinos. As long as you take the time to study the terms and conditions of any offer, you should find that Free Spins can be a useful way to increase your chances of winning.