Casino bonus
In the highly-competitive South African online gambling market, casinos are fighting hard to attract new customers and one of the most effective methods they use is to offer bonuses. The two most popular bonuses available with South African online casinos are the welcome bonus and the no-deposit bonus. This section offers a detailed explanation of what these bonuses are, how they work, and how the new casino player can take advantage of them.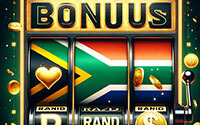 The Welcome Bonus guide explains what a welcome bonus is, and details some of the variations of the welcome bonus, including welcome bonus packages for high rollers and for those who use certain casino facilities. It also explains how to use a welcome bonus code and outlines how some casinos split their welcome bonuses into instalments.
In the No Deposit Bonus guide, you will learn the principle behind the no deposit bonus, and how to take advantage of it. There are multiple ways that casinos can permit you to take your no deposit bonus and the guide outlines the various methods, including how to use a no deposit bonus code and how to sign up for your no deposit bonus through an affiliate. This article also explains how a no-deposit bonus can be a useful way of becoming familiar with a particular site or casino game, without having to risk any real money.
These guides will also explain the terms and conditions attached to welcome bonuses and no-deposit bonuses. Both types of bonus require the player to 'play-through' the amount of the bonus in order to benefit from it, which means they have to wager a certain amount before they can withdraw the bonus amount or any money won from it. With a thorough understanding of how these bonuses work, the new player can use them to enhance their online casino play and increase their gaming bankroll.