Craps
The history of craps goes back hundreds of years, in fact, people may have been playing as long ago as the Crusades. Also sometimes known as 'shooting dice' the word 'craps' is believed to derive from 'crapaud'. This is the French word for 'toad', because of the squatting posture that craps players adopted when playing the game in the street. But craps eventually gravitated from its street origins to casinos and online casinos.
In fact, back in the early days of online casinos, craps was one of the first well-known casino games to make the transition online. As it was relatively easy for programmers to simulate the action of dice. Now, in every part of South Africa, online gamblers can play craps at their convenience, in the comfort of their own home, or on their mobile devices.
Estimated reading time: 4 minutes.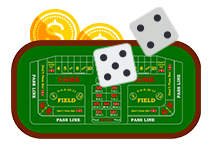 Choose a great South African casino
Online Craps Basics
Craps is in essence a simple game, involving one or more players wagering on the outcome of two dice. When you play online craps, you will see the available bet types laid out on a table grid. Many of these bets have strange-sounding names and can appear daunting to the newcomer. The advantage of playing craps online is that you can study these bets in detail at your leisure. Most South African online casinos will have a helpful information section or allow you to play the game in fun mode. This is giving the you chance to familiarise yourself with the various bets without having to risk any real money.
Online Craps Betting
In a typical online craps game there will be around forty possible bets. It is possible to start playing online craps with just one bet, known as the Pass Line bet. To place a Pass Line bet, simply click on the Pass Line section of the craps table and adjust your stake to the desired level. Another popular type of bet is the Odds bet. These are bets placed after the first dice roll and before the second and are essentially bets on a specific number being rolled. Online casinos have no edge with Odds bets so they can be particularly profitable.
Online Craps Gameplay
There are two rounds in a game of online craps, called 'come-out' and 'point' and each round is preceded by a betting phase. The first roll is called 'come-out'. If the come-out roll produces a 2, 3 or 12, this is known as 'craps'. A roll of 7 or 11 is called a 'natural' and results in a win for those who bet on the Pass Line. Any other number establishes a 'point' ahead of the second roll in which players aim to roll the same number once more.
Online Craps Payouts
The odds on a Pass Line bet are usually Evens, and many South African gamblers play craps online without ever using any of the other bets. But it can be worth familiarising yourself with some of the other wagering options as these can prove profitable. For instance, if you land an Odds bet and the point number was 5 or a 9, you will get odds of 3 to 2. If the point number was a 4 or 10 your odds will be a healthy 2 to 1.
Online Craps Jargon
Although craps is basically a simple game, there are a lot of extra jargon associated with the game, which can initially appear daunting. For instance, the Pass Line and the Don't Pass Line can be a little confusing. Along with the use of the word 'natural' to describe a roll of seven and 'snake eyes' to describe a double one. This jargon can seem strange, but with a little experience, you will soon get the hang of it, and this is where the help section of the online casino will be invaluable. Some South African online casinos also offer a facility whereby tips appear if you move the mouse over an area of the craps table. This can also help you to become familiar with the jargon.
Conclusion
To newcomers, craps may appear to be complicated, but it is basically a fairly simple game. Once you get the hang of the jargon, you will find it easy to play this enduring casino favourite. Most South African casinos offer online craps and make it easy for the South African player to enjoy a game.