EcoPayz
Online casino gaming is growing rapidly in popularity throughout South Africa. As a result, casinos are having to attract customers in many ways, including by offering a wide range of deposit and withdrawal methods. One way that South African casino players can upload funds to their casino of choice is through the EcoPayz system.
Estimated reading time: 3 minutes.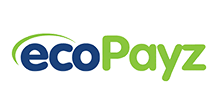 Choose a great South African casino
What is EcoPayz?
EcoPayz was originally known as EcoCard and launched in Luxembourg back in 1998. This was before being re-branded as ecoPayz in 2013. It is a popular form of online prepaid debit card that has been used by casino players all over the world for nearly two decades. Adopted in Europe, it was not previously available to most South African customers. This until five South African banks: ABSA, Capitec, FNB, Nedbank and Standard Bank were added to the ecoPayz system. This means that South African casino players are able to fund an ecoPayz account direct from their own South African bank accounts.
How to use EcoPayz?
To use ecoPayz, you first have to set up an ecoPayz account. This is fairly straightforward. Simply go to the company website and fill in the online form. Once your account has been verified, you can transfer money direct onto your ecoPayz account. This by using a credit card, debit card or bank transfer. Then use this money to deposit funds with their favourite casinos.
By opening an ecoPayz account you are effectively setting up a virtual or online debit card. It can then be used to play online casino games, without having to reveal your bank or credit card details to the casino. You can deposit funds by heading to the banking or deposit section of your casino of choice and click on the ecoPayz option. Once your ecoPayz account is linked with the casino cashier, depositing funds is quick and easy.
Is ecoPayz safe to use with South African casinos?
Safety is of course an important factor when considering which funds transfer method to use with South African casinos. EcoPayz is one of the safer ways to move money. It is accredited and certified by the financial services regulators of many major European nations. This includes the Financial Conduct Authority in the UK, and it operates throughout the European Economic Area. Additionally, when using ecoPayz, you don't need to disclose any personal or banking information. This adds an extra level of security.
Pros and Cons of EcoPayz
EcoPayz offers several advantages to the South African casino player. It is simple and speedy to use. Depositing funds from your bank account is quick and easy. The money deposited to a casino from your ecoPayz account is available to use immediately.
It is also a secure and customer-friendly way of transferring money. No bank details are disclosed at any stage of the process. The company offers access to a helpful multi-lingual support team 24/7 in the event of any queries or problems.
As EcoPayz is a prepaid debit card, it also has an advantage over using a credit card or bank account. It is impossible to use more money than is available. So should you be tempted to exceed your gambling bank you won't be able to. This makes the ecoPayz system particularly useful for players who need to be careful about managing their budget.
On the other side of the equation, there are some negatives with using ecoPayz. When withdrawing funds from a casino into your ecoPayz account there is usually a delay. This can be up to two or three days before the money clears into your account. EcoPayz also charges a fee when you withdraw money into your normal bank account. It worth noting that some South African online casinos will let you deposit funds using ecoPayz but won't let you withdraw money using this method. If this is likely to be inconvenient, it is a good idea to check on the casino's banking page whether this is the case. This before using ecoPayz to deposit funds.