Free online casinos
Online casino gaming is booming in South Africa as millions of South Africans are discovering this great way to gamble. But for newcomers to online casinos, the range of games on offer, as well as the plethora of bonuses, rewards, rules and gambling options can be daunting. That's where free online casinos can help. With free online casino gaming, players can learn how to play the most popular casino games without risking any money.
Estimated reading time: 3 minutes.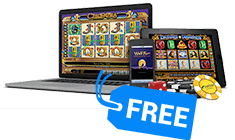 Choose a great South African casino
What are free online casinos?
Although it would be lovely to be able to win money without any risk, sadly, you won't find online casinos that operate completely for free! But you will find plenty of opportunities to play popular casino games for free. No money is risked or won, but it can be a good way to build your online casino experience. So what options are available with free online casino gaming?
Casinos in fun mode
One of the easiest ways to enjoy free online casino gaming is to play online casino games in fun mode. Most online South African casinos offer a demo mode or free version of their software. Where you can play their games, either in your browser or by downloading their software. You don't even have to register with the site, so you are not committed to giving the casino any personal or financial details.
You will usually find that the casino games offered in demo or free mode are exactly the same as the real games. This means that when you are ready to start playing for real money, you will be well prepared. Playing casino games in demo or fun mode can be a great way for newcomers to try their hand at online casino gambling. They can also be useful for experienced players who want to try out a new game and improve their technique.
Social gambling
Social gambling takes place on popular social media sites such as Facebook. This is where many South African online casinos have built up a strong presence. Almost all of the games on social media are free to play and include some of the most popular casino games. This includes Texas Hold'em poker, blackjack and a wide range of slots.
Just like playing casinos in fun mode, social media gambling is a great way to play casino games for free, improve your skills, or learn the rules of a new game. It also has a fun social element. Your social media friends and followers can see what you're playing, offering you the chance to brag when you win! You can also compare results and review the games you play. This is a good preparation for when it comes to choosing which games to play for real money with an online casino.
Playing with a no-deposit bonus
Another way to enjoy free online casino gaming is by playing using a free no-deposit bonus. Many South African online casinos offer this facility and it's easy to access. When you register a new real-money account, your account will be credited with a no-deposit bonus.You will only be eligible for this bonus if you have not yet made a real money deposit.
The bonus will usually be a set amount, which you can use for all of the casino's games, unless the terms of the bonus say otherwise. Some online casinos may also offer their no-deposit bonuses in the form of free spins, which will apply to a specific slots game. Playing with a no-deposit bonus enables you to gain experience of how a particular casino's games work. It is a good way to transition from free casino games to real money games.
Advantages of free online casinos
By playing free casino games, you can develop your skills, learn how games work and become more comfortable with the whole online casino experience. It is a great way to dip your toe in the world of online casino gaming. Whether you opt to play in fun mode, dabble in social gaming, or take advantage of an online casino's no-deposit bonus. Playing free online casino games is the perfect preparation for playing with real money.
Brand new online casino
Bonus up to R22,500
Exclusive 180 free spins!