Payment methods
Even the most transparent and highly regarded online casinos have a goal. This is to have you depositing and playing as quickly, safely, and easily as possible. When it's an online casino South Africa, especially the ones that we recommend, this means that there's an good chance that they'll offer the payment methods that you prefer. It's also important to note that all of the following information on banking information at online casinos is in regards to legitimate casinos that we recommend. Avoid scam casinos by first verifying their legitimacy. Otherwise you could be entering your bank account info to have your information stolen.
Estimated reading time: 4 minutes.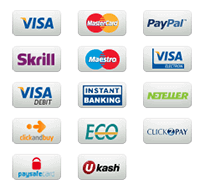 Security and Safety
An online casino's reputation is more important than any other ecommerce site. This is because of the negative connotations that already surround gambling both online and off. The legitimate casinos make sure to employ the most up-to-date encryption technology. The guarantee the highest in safety and security. It's also important to look at third-party seals of oversight and auditing. As well as use payment methods that themselves have security resources that give you as the customer a resource in case of any disputes.
Instant and Easy EFT options
The most used payment method in South African casinos is EFT transfers. Using a wallet or payment provider to provide instant EFT transfers is safe and quick. This can be Instant EFT by Payfast, SID instant EFT, EasyEFT or one of the other options. We highly recommend this as it is widely accepted and shows better support then credit cards.
Debit and Credit Cards
Definitely the most common way to pay online, debit and credit cards, particularly Visa and MasterCard, are available at almost all online casinos. Some advantages include the potential to earn points on your card. The fact that the information might already be programmed into your web browser.. and that most people feel the most comfortable using this payment method because they use them at other ecommerce websites.
E-Wallets
E-Wallets like Skrill and Neteller are great for several reasons. For one, almost all online casinos let you use them, but they can also have online casino promotions themselves, like free spins just for using them. E-Wallets are also a great way to keep your gaming finances separate from your personal finances. It is especially helpful if you're playing at more than one gambling site. In fact, Skrill and Neteller are renowned in the online casino market more so than in any other industry. You can also find PayPal at a lot of online casinos now too.
Others Banking Options
Paysafecard is a great way to play at an online casino using cash. Bitcoin is a good option at Bitcoin casinos for the more tech savvy players. And bank transfers can be convenient, though they can have longer pending periods than the alternative. And since many of our recommended casinos are specifically geared toward the South African player, there are more options beside EFT (see top of this article) like EcoPAYZ or Citadel . An oldskool bank transfer is also still an option, but it will have longer processing times.
Pending and Withdrawing Times
An online casino will normally have a 72-hour pending period. They may ask for standard identification to verify your identity for security purposes if it's your first time making a withdrawal. After that, it will be dependent on your withdrawal method. E-Wallets normally take less time than credit cards (24 hours vs. 5 days, respectively). Mind that cheques by mail will almost always take the longest (sometimes as long as a month).
Deposit vs. Withdrawing
Because an online casino lets you deposit with a banking method, doesn't 'mean they'll offer the option to withdraw in that payment method. While some casinos offer a lot of crossover, there are some banking methods you won't often see for withdrawal. But instead always see for deposit, like debit and credit cards. Also, Paysafecard can only be used for deposit since it's immediately disposable after a single use. Make sure to check into the labelled banking section of the online casino, which should be linked directly off the homepage.
Banking Concerns
Any concerns you have about whether an online casino lets you withdraw or deposit using the method you prefer should be cleared up in the banking section of their site. If they're not, you should definitely reach out to their customer service via phone or chat. If they're unable to acceptably answer your question, then definitely go with a different casino. Online gaming is about fun and relaxation, and dealing with that is the opposite of both.