Skrill
Online casino gambling is growing rapidly in popularity across South Africa. As the demand for great casino sites has increased, so casinos have had to provide their customers with more competitive methods of depositing and withdrawing funds. One of the most popular fund transfer systems is Skrill, a payment processor that dates back to 2001. Formerly known as Moneybookers.
Click here to open a FREE Skrill account.
Estimated reading time: 5 minutes.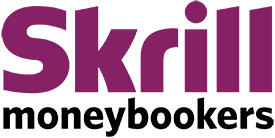 Choose a great South African casino
What is Skrill?
Skrill is a widely-used online payment system. It was formerly known as Moneybooker, and which is popular with online casino players in South Africa and worldwide. It is comparable to other e-wallet companies such as Neteller. Players who use Skrill do not deposit funds directly with the casino through their credit and debit cards. They use Skrill as a third party payment processor. Essentially, the company handles deposits and withdrawals with the casino on the player's behalf. You can see it as a small online bank account.
How does it work?
To use Skrill to deposit funds with an online casino, it is first necessary to set up a Skrill account. This is a straightforward process and can be done via the Skrill website. Setting up a Skrill account is free. Although it is important to remember that there are transaction fees associated with making a deposit or a withdrawal. Once the Skrill account has been set up, the account holder can deposit funds via their own bank account or credit card.
One of the advantages of using Skrill is that you don't need to remember a password. Skrill users set up security questions when they first open their account. They are required to answer these questions when accessing it at a later date. This provides an extra layer of security to the account than would be provided by a simple password. Also Google's 2-way authentication can be installed.
Once a Skrill account has been set up, it is easy to use it to make a deposit at an online casino. After ensuring that there are sufficient funds on the Skrill account, all the casino player needs to do is to visit the casino site's payment or banking page. Then select Skrill from the list of payment options. They will then be guided through the process of registering their Skrill account. Once it has been linked with the casino cashier, it is easy to transfer funds quickly without even needing to click away from the casino lobby.
Does using Skrill affect what games I can play?
Using Skrill to make your online casino deposit does not limit the range of games that you can play. Most South African casinos offer the facility to deposit or withdraw funds using Skrill. You should also be able to make Skrill deposits and withdrawals using a mobile device. This enables you to play all of the latest slots and table games on the go.
Is Skrill safe?
Safety is vital when carrying out online money transfers and for South African casino players, Skrill offers a high level of security. The company employs high quality data encryption technology. The risk and fraud teams constantly monitoring transactions to ensure that nothing is amiss. Skrill also offers chargeback coverage and protection. They do this to give customers complete peace of mind that their transactions are safe and secure.
Pros and Cons of using Skrill
When playing online casino games, it is essential to be able to move money into and out of your account at speed. This is where Skrill comes into its own. Once a casino account is linked with a Skrill account, all deposits and withdrawals are nearly instantaneous. Processing fees are minimal, making it an ideal payment method for casino players. Most times the online casino will take the fees for their account.
Another positive for Skrill users is that South African casinos are keen to encourage their customers to use this method for financial transactions. Sometimes offer players who make Skrill deposits cash back rewards, loyalty points and other bonuses.
The potential downside with using Skrill is that there are small transaction fees to pay when moving money out of the account. Some banks can also charge their own fees for transferring money to a Skrill account. It's a good idea to check your bank's policy in this area before deciding whether to use a Skrill account. It is also important to note that while withdraws from online casinos to a Skrill account are honoured immediately, you then have to access your Skrill account to transfer the money to your own account. This can mean a small delay before you can get your hands on your winnings.
💡 Is Skrill safe to use?
Yes, Skrill is absolutely safe to use. You add money to your Skrill wallet and pay casinos from your wallet. By this, you don't have to share any financial information like creditcard numbers to the casino.
💡 Do many online casinos support Skrill?
Yes, Skrill (part of Neteller company) is one of the most popular payment methods. All online casinos listed on your site offer Skrill for payouts and withdrawals.
💡 Is Skrill expensive?
No, most casinos do not calculate any fees for using Skrill. The only downside is the transfer fee if you want to pay out to your bank account. Furthermore if you open a ZAR account, do not accept or pay in other currency as they will have a 4% foreign exchange fee.
💡 What banks accept Skrill?
You can add money to your Skrill account is a lot of ways. For example all major creditcards, bank transfers and prepaid cards. Mind that some of these methods have extra fees involved.
Brand new online casino
Bonus up to R22,500
Exclusive 180 free spins!