Credit and debit cards
A debit card links directly to the player's checking account and can also double as an ATM card. While a credit card is separate from a savings or checking account and has to be paid off separately. They both have their advantages in general. But when it comes to the online casino, their benefits only differ when it comes to withdrawing winnings.
Estimated reading time: 3 minutes.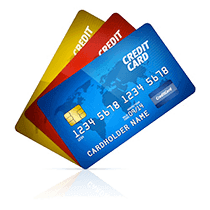 Choose a great South African casino
Depositing with a Credit or Debit
Using a debit or credit card puts the finances in your online casino bankroll instantly. This makes it an easy choice for many players who just want to jump in and start betting. Further, many players feel more secure using a credit card because if there are any issues, you can just get in touch with the bank. You will have them refund the card rather than wait for them to refund actual money into your account. Some of us also have our credit and/or debit card information plugged into a web browser like Google Chrome. This so we don't even have to type it all out every time we make a transaction. This can definitely save some time. Reward points are also worth considering when depositing with a credit card. Because as you might earn some for every time you make a deposit, which would be pretty great.
Withdrawing on a Debit Card
What's awesome about withdrawing onto your debit card is that once the processing time is over, the money goes directly into your checking account. That means you can head over to an ATM, pay bills, or do whatever needs to be done like you would if you got a direct deposit from your place of work. However, try and only play in Rands, as exchange rates can be steep.
Withdrawing onto a Credit Card
The only issue with withdrawing in Rands your credit card is if your bank charges a fee if you credit the card with more money than you owe. For example, if you owe R1000 to your credit card but withdraw R1500. Depending on your bank, you might have to pay a small fee. If you want to withdraw using a credit card and think you might put in more than you've spent, we'd recommend checking with your bank to make sure you won't be charged for it. If you are fined, we'd definitely recommend using a different payment method.
Common Concerns with Credit and Debit Cards Deposits and Withdrawals
If the online casino accepts credit and debit card deposits, then they will definitely accept Visa and MasterCard. However, you will be very hard-pressed to find a legitimate casino that accepts Discover or American Express. And just like with any usage of a debit or credit card, the payment information can be stolen through phishing. While the online casinos we recommend have hi-tech SSL encryption that keeps your information as safe as possible. The credit and debit card companies also have safeguards and resources in place. And there's always going to be a tiny risk of that, just like if you were to shop at Amazon, eBay, or the like. If this happens at one of our recommended sites, it's almost certainly not the online casino's fault. We've personally never had a problem, and don't recommend casinos who have ever been accused of anything related to that. The most reputable online casino's use external professional creditcard payment providers. They work out their transactions.
Brand new online casino
Bonus up to R22,500
Exclusive 180 free spins!