Playing without a bonus
When it comes to signing up to an online casino you will often be offered a welcome bonus. What not many people know is that you don't have to take this bonus if you don't want. You can choose to avoid the bonus and then just play at the casino without the constraints of wagering requirements. The question you need to ask is how can you do this, and should you do this?
Estimated reading time: 4 minutes.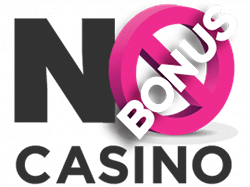 Pros of playing without taking the bonus
The first thing you need to know is the benefits to playing without a bonus. The first pro is very obvious. There are no wagering requirements on what you have in your account. It means that you can instantly withdraw any winnings you make without having to play through them a number of times. This is the main bonus to playing without taking a bonus.
You also won't have to do any working out when you're playing as to whether you are in the wagering requirements or not. With how some games only count as a certain percentage towards the requirements it can sometimes be very difficult to work out if you have passed the wagering requirements or not. The fact you won't have to work anything out is instantly a massive bonus.
The final real pro is that you won't be tempted to deposit more than you originally intended in order to get a higher bonus amount. You can just deposit what you want and then play with that amount. It's as simple as that.
Cons of playing without taking the bonus
There is only one main con. That is that you won't get the bonus. If you want to increase your bankroll for a specific bankroll management strategy then a welcome bonus will allow you to do that. If you choose not to take the bonus then you will have to stick to a strategy using your deposit amount, which might make it very difficult to carry out.
How to not take the bonus
With most bonuses you will have to opt out in order to not receive it. This is usually done in one of two ways. The first way is when you are making your deposit. Check through the deposit page to make sure that there is no box that has to be checked in order to opt out of the bonus. If there is then follow the instructions that are there and you will be able to play without your bonus.
The second way is by getting in touch with the customer support at your chosen casino. When you do this you will be able to make them aware that you don't want the bonus and then it can be removed from your account. If you have to do it this way it's important that you don't place any wagers until it has been removed. The last thing you want to do is start using the bonus and then be unable to remove it. So, wait until it has been removed and then you can begin playing.
Don't just rely on these two methods though, it's always important to check the terms and conditions at the casino you sign up to in order to make sure that you are able to refuse the bonus. Some casinos might even have a different method in place to stop bonuses, so it is always important to check rather than just make the deposit without checking.
When should you not take the bonus?
There are a number of times when taking the bonus is definitely not a good idea. The first is when the wagering requirements are applied to both the bonus and the deposit amount. This can instantly double your total wagering requirements and often makes it almost impossible to reach them. Make sure you double check the terms and conditions in order to avoid this problem.
The second is if the wagering requirements are ridiculously high. If they are above 40 times your deposit amount then that can reasonably be called too high and you should probably think about avoiding the bonus.
Finally, if there is a limit on the amount you can win with a bonus then you should also avoid the bonus. This means that the bonus amount is limiting how much you can win to then use to pay off the wagering requirements. It means that the casino are adding extra barriers to stop you from reaching those requirements.
When should you take the bonus
There is one kind of bonus that you should always take, no matter what. If you are lucky enough to find a bonus that offers no wagering requirements then you should take it no matter what it is. If it's a free game of Blackjack and you're not a fan of Blackjack, it doesn't matter. It's essentially a free chance to add to your bankroll without any restrictions. For this reason you should always take this kind of bonus if it's offered.