Montecasino
Montecasino has earned a reputation as the premier gaming establishment in Guateng and has landed a number of top industry awards, including prizes for Best Entertainment Complex, Best Cinema Complex and Best Casino.
The site itself is a luxury casino complex that is owned and operated by the well-known Tsogo Sun Gaming Group. Built at a cost of R1.4 billion, the complex has been designed to replicate a traditional Tuscan village environment, . It features spectacular Italian architecture, along with the latest in casino technology. This to create a unique blend of the modern and the classic. (Montecasino Blvd, Fourways, Johannesburg, 2055, South Africa)
Estimated reading time: 4 minutes.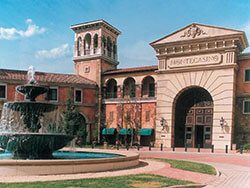 Location
The Montecasino complex is ideally situated in Fourways, a suburb in North Johannesburg. It is easily accessed by the local highway network, and there is a Gautrain bus pick-up and drop off point right by the western entrance. With the International Airport within convenient driving distance, Montecasino is a good option for international visitors.
The Casino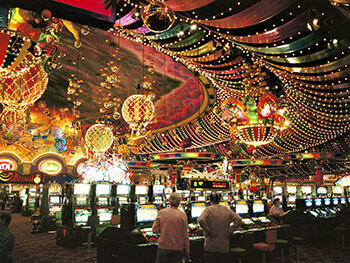 Casino games enthusiasts will not find many bigger casino floors than the Montecasino complex offers. Visitors can enjoy an eye-opening 1700 slots titles on the main casino floor, including such popular games as Geisha, Shamans Magic and Ruby Magic. Since it was opened, back in 2000, Montecasino has given out prizes to thousands of players. It is particularly well-known for its wide array of progressive jackpots, which number more than 100. They offer staking from as little as 2c, right up to R100, making them accessible to casino gamblers of all levels. The casino also offers regular deals to draw in visitors, in which millions of rands are given away the form of cars, cash and other prizes.
For casino fans who enjoy their table games, Montecasino has the full complement of options with over 70 games available. Including American Roulette, Blackjack, Craps and Poker, along with novelty options like Wheel of Fortune and Life of Luxury. The casino floor is arranged in discrete sections, offering something for every type of player. Including a non-smoking main area, two casino options for smokers and a private casino area that offers both smoking and no-smoking play for VIP gamblers.
Dining and Bars
When it comes to dining options, the Montecasino complex has an impressive choice of 40 separate eateries, so guests need never go hungry! There are 20 restaurants, offering a range of speciality cuisines that includes Greek, Italian, Indian and Portuguese.
For a speedy and tasty snack, there is an impressively large food court that offers some of the most popular fast food outlets. Like Wimpy, Steers, Milky Lane and KFC. There are plenty of coffee shops available for a caffeine boost, including Seattle Coffee Company, Ella Café, Fego Caffe and Brazilian Café. The Café Vacca Matta combines a restaurant and nightclub option with bar facilities. The @Monte venue is a popular meeting place offering food and drinks and is particularly recommended for its views of the Piazza.
Accommodation
For casino gamers who want to stay at the complex overnight, there are three separate hotel options. The most luxurious is the Palazzo Montecasino, an opulent 5 star hotel that offers both elegance and sophistication. An architectural masterpiece set in stunning landscaped gardens, it also boasts world class water features and provides easy access to both the entertainment and shopping areas.
The other hotels at the Montecasino are the 200 room Southern Sun. It opened in 2010 and is modelled on the Palazzo Corsini in Italy. The SunSquare Hotel, which provides accommodation that is both comfortable and affordable and has established a good reputation among both corporate and leisure travellers.
Entertainment
One thing is for sure; you will never be short of things to do at Montecasino! As well as its wide selection of bars and dining outlets, the site includes night clubs. But also theatres and a number of family-friendly entertainment options. The famous Bird and Reptile Park are fun options to do.
The Open Air Piazza, surrounded by restaurants and eating outlets, is an ideal location to relax outdoors. Visitors can enjoy the Plaza's grand Musical Fountain.
Conclusion
In a competitive industry, this complex is one of the best. It provides one of the most gambler-friendly casinos in the country, with a huge selection of gaming options. It combines this with plentiful accommodation and a plethora of entertainment and dining venues, all set in a truly stunning environment.