Emperors Palace casino
The Emperors Palace is one of the best known casinos in South Africa. It is owned by the famous gambling group Peermont Global Limited, a leading operator of gambling facilities in the country. Comprising four separate hotels, the casino complex has earned a reputation as world class gambling spot, offering a host of gaming features and entertainment. (64 Jones Road, Kempton Park Johannesburg, South Africa)
Estimated reading time: 4 minutes.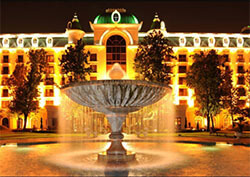 Choose a great South African casino
Location
Emperors Palace casino is located near the famous Johannesburg International Airport, so it is easily accessible to foreign visitors. The hotel itself offers all of its guests a shuttle service to the airport. VIP guests can arrange a VIP transfer between hotel and airport, and there is an excellent Gautrain rapid rail connection available between Pretoria and Johannesburg. There is even a local bus route that goes directly to the casino in the day and evening.
The Casino
Emperors Palace Casino has built on its reputation on offering its customers a luxurious and international-standard gaming experience set in opulent surroundings. The casino itself is dominated by striking architectural features. This is including grand Roman arches and hand-painted murals, and the overall effect is to create an atmosphere of stylish indulgence that rivals anything that you can find in Las Vegas or Monte Carlo.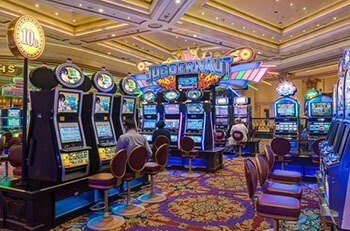 Of course, what really matters to casino players is the quality of the gaming. Emperor's Palace Casino doesn't let anyone down with its variety of slots and table games. In total there are 1724 slots games, covering all the popular varieties, from classic three-reels to the latest in high-definition immersive titles. There are also 68 table games, including everything from Roulette to Baccarat. Also as daily Live Poker and unique games including MegaPay Keno, so every casino gaming option is fully covered.
The Emperors Palace also offers a host of player-friendly features that make gaming easier and more enjoyable. These include cashless casino gaming, friendly table rules, helpful game instructions and handy strategy cards that are particularly welcome for newcomers. They also do well at making their casino games accessible to players of all types, with low minimum wagers. For example, it is possible to play slots games for as little as 1c and there is a minimum R2.50 bet on Roulette and a R10 lower limit for Blackjack.
Visitors are well catered for with food and drinks options both on and nearby the casino floors. The smoking areas are fully equipped with effective smoke reduction systems.
Food Facilities
You can't spend your whole time at the casino tables, so when you need to a take a break, you want access to convenient and varied food outlets, and there are catering options in abundance at Emperor's Palace. In total, there are more than fifteen restaurant and bar outlets in the complex that serve a wide range of food. In fact, the restaurants at Emperor's Palace Casino provide every type of dish you could desirer, from sea food to local cuisine.If you are just looking for a quick snack, there is a bustling fast food area, where well-known outlets are represented. When you want a little liquid refreshment, you can choose from seven bars located in different areas of the hotel and casino complex.
Accommodation and Parking
One of the advantages of a casino resort is that you don't need to arrange separate accommodation. The Emperors Palace complex includes four different hotels. Ranging from the Peermont Metcourt Suites to the grand and stylish five star D'Oreale Grand. All of the hotels feature popular amenities such as private pools and beauty spas and whatever the size of your budget, you should be able to find ideal accommodation.
For those who are driving to the complex, car parking is obviously an important consideration. Each of the four hotels at the Emperors Palace has a large number of parking bays on offer. This in addition to an impressive multi-storey car park serving the whole complex.
Entertainment
Modern casino complexes are a complete holiday destination and Emperor's Palace Casino typifies this development. It hosts the Theatre of Marcellus, which is the venue for dance extravaganzas and musical shows. It also offers the Odeon Showbar which stages cabaret reviews, jazz nights, comedy shows and screened sporting events. The Marc Antony's Cigar Lounge gives guests the chance to try some of the world's most luxurious cigars, whiskies and cognacs. The casino also hosts world title and local boxing bouts.
As if that weren't enough, those who like to go shopping when they aren't on the casino floor can enjoy a number of retail stores. Furthermore there is a range of cinemas, a Jupiter's children entertainment facility, and the Magic Company offering top video and arcade games.
Conclusion
If you are looking for a top quality casino that offers a luxurious gaming experience, yet is accessible to all gamblers, then the Emperors Palace is for you. With its wide choice of dining and recreation facilities, excellent accommodation and good transport links... it is a shining example of the best that the South African casino industry can offer.