Live craps
One of the most iconic games that are played in brick-and-mortar casinos is craps. There are many great scenes of people being gathered around a table while someone throws the dice onto the table.
While it has not made as much of a transition to online play as the likes of blackjack and roulette, there is now the opportunity for people to play a live dealer version of the game. This guide will take you through everything that you will need to know about playing Live Craps.
Estimated reading time: 4 minutes.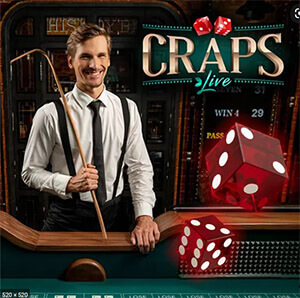 Choose a great South African casino
What Exactly is Live Craps?
Craps is a dice-based game that sees all of the players placing bets on the outcomes of the two dice. With Live Craps, you will have a real dealer managing the entire game. The process is quite simple for payers. You initially need to place your bets and sit back to see what the dice roll will be.
Usually, two dealers will be working at the Live Craps table. One of them will be operating the stick that is needed to place bets and carry out other key table functions. Then the other dealer will be the one to roll the dice on the behalf of the person who is behind the screen.
There is always plenty of adrenaline on the line, which is enhanced by the live stream and the ability to interact with others during the course of the gameplay.
Basic Rules of Playing Live Craps
All of the players in Live Craps will need to first submit their wagers by choosing their stake sizes and then deciding what specific wagers to place. There is usually plenty of time in between rounds during Live Craps for you to pace or remove your bets. As soon as all of the bets have been placed, the dice will then be rolled. The stickman will then announce the dice result. You will then get a zoomed-in look at the table to see the result of the dice.
The rules of Live Craps are quite simple. If the dice roll result is a 2, 3, 7, 11, or 12, then the round will come to an end. However, if there is a 'point roll' total of 4, 5, 6, 8, 9, or 10 then there will be a further dice roll. This process will keep repeating until a 7 is rolled or the point number is rolled. Therefore, games can take on a life of their own in a lot of situations.
Players will have a great range of different betting options available to them. Each option will be clearly displayed on your screen, providing you with all the tools needed to enjoy the playing session.
Payouts of Live Craps
If you are playing the Evolution version of Live Craps, the return to player (RTP) rating can go as high as 99.17% and drop down to 88.18%. The payouts that you can earn are going to depend on what types of bets that you are going to place. There are numerous options that will payout at even money. The biggest potential payout will be 30/1.
Popular Live Craps Strategies
There are many different strategies that people try to deploy when they are playing Live Craps. As a beginner, it is usually advised that you start with a single type of bet and don't try to make various types of bets during the same round. This allows you to grasp the basics of the game without getting over your head.
The 6/8 hedge strategy sees you placing bets on the 6 and the 8 after the point has been set. As soon as you hit a 6 or an 8, you will then spread your bets to 5 and 9. From that point forward, you are looking to take some profit off the table while still trying to cover 5, 6, 8, and 9.
There is usually also a useful interface available as part of Live Craps that can help you navigate throughout the round. There is even a dealer assist feature that allows you to test out certain types of bets without playing real money bets. For beginners, it is usually best to stick to the one-roll bets in order to understand the basic rules of Live Craps.
Conclusion
If you are someone who loves the excitement that craps have to offer, then Live Craps will be of you. There are not too many ways for you to play craps online, with Live Craps being the best way to get your fix. The HD-quality streams make up for the fact that you are not there in person shooting the dice.