Live deal or no deal
There are many different types of niche live dealer titles that you will come across when you are visiting live casinos. Live Deal or No Deal is one of those games, being based on the popular television game show. There is no limit as to how many people can play Live Deal or No Deal at the same time, making it very accessible.
There are numerous players to this title, offering plenty of different great prizes and thrills along the way. This guide will take you through each of the main aspects associated with playing Live Deal or No Deal.
Estimated reading time: 4 minutes.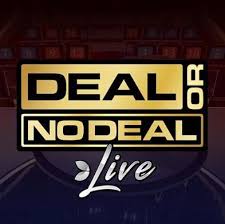 Choose a great South African casino
What Exactly is Live Deal or No Deal?
Live Deal or No Deal is a multi-layered game show title that is based on the popular Deal or No Deal television game show. The Live Deal or No Deal game is available on many leading online casinos and it is supplied by Evolution.
It is based on a random number generator (RNG) and has numerous bonus prize rounds. The idea behind the game is to try to predict if the sum of money that is contained in the remaining 16 briefcases is going to be bigger than the Banker's current offer.
Basic Rules of Playing Live Deal or No Deal
There are three main aspects associated with playing Live Deal or No Deal. You initially need to complete the qualification process.This sees you spinning a wheel, with the aim being to correctly line up the three segments of the circle. You can do this in normal mode, easy mode, or very easy mode. Naturally, the easier mode that you choose, the lower your ultimate potential payouts will be.
You are then given the option to top up any of the briefcases that are a part of the game. You simply select a box and decide on the stake size. You then need to spin the wheel and whatever value it lands on will be the value that is then added to your selected case.
You then arrive at the main Live Deal or No Deal game. The basic premise is to either take one of the banker's offers or to take the money that is held in the final briefcase. The live assistant will initially open three briefcases showcasing three different numbers. These prizes will then be removed from the board. You will then get the initial offer from the dealer.
You are able to take this offer or to continue playing on by selecting 'No Deal'. This process continues for another couple of sets of four cases. When there are just two briefcases remaining, you will get a final offer from the banker, including the option to swap the boxes. You either accept the offer or choose one of the boxes.
Payouts of Live Deal or No Deal
The highest possible return to player (RTP) rating for Live Deal or No Deal is 95.42%. The potential payouts as part of Live Deal or No Deal can vary widely. Generally, the first briefcase in the game is going to pay a prize of 0.10x, with the payout increasing as the number of briefcases left decreases. The most that you can win as part of the base game is 500x your stake.
Popular Live Deal or No Deal Strategies
Everyone will have their own approach when it comes to playing Live Deal or No Deal. A lot of people will simply accept an offer for the banker whenever taking it would generate a profit. This is a very simple, but effective strategy. In order to have big wins, you are going to have to commit large sums to the game. Even if you do so, there is not going to be any guarantee that you will win big come to the end of this game.
It can be a very risky play trying to wait until the final box. The only guaranteed return that you will have is the offer from the banker. It is important that you keep a track of exactly how much you have spent, as well as not trying to get overly greedy. Finally, it is never advisable to swap the briefcases at the end of the game.
Conclusion
Live Deal or No Deal is a unique type of game that brings something different to the table. You are going to play out a lot of interesting scenarios during the course of this game, meaning that you will have plenty of decisions to make along the way. This is why so many people enjoy this title, as it can prove to be very challenging, but rewarding if everything lines up for you in the right way.