Mega Wheel
There are many different types of niche live dealer titles that you will discover when you are looking at game libraries on some of the best live casinos in the space today. One of the popular titles that is game show-based is Mega Wheel.
This will be a widely available title that is supplied by Pragmatic Play. It sees a lot of thrill being brought to proceedings as you wait to see where the spin of the wheel will finish. This guide will take a look at all of the major aspects involved with playing Mega Wheel.
Estimated reading time: 4 minutes.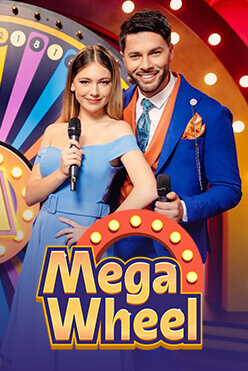 Choose a great South African casino
What Exactly is Mega Wheel?
This is a live dealer title that sees the centre point of focus being a mega-sized wheel. There is a real host present in order to spin this wheel, rather than it being a computer generated game. It is going to follow a similar type of process as you would expect with real-life game shows that are wheel-based.
There are some commonalities you will see with Mega Wheel that will also be present with other live casino games, such as Spin a Win and Dream Catcher. However, Mega Wheel brings its own twist to proceedings.
Basic Rules of Playing Mega Wheel
There are 54 different coloured segments that make up the wheel. Each segment has a number on it, with some of the numbers being rarer than others. The rarer the number, the higher the potential payout will be. There are also a few multiplier segments, with the max possible multiplier for a given round usually being 500x your stake.
You need to decide which numbers you want to bet on before the wheel is spun. If the wheel successfully lands on one of the numbers that you have placed a bet on, you will get the corresponding payout. When it comes to placing bets, each player is going to have a total of 15 seconds to do so before the dealer spins the wheel.
Payouts of Mega Wheel
The optimal return to player (RTP) rating for playing Mega Wheel is 96.51%. The presence of the multipliers lead to this being a high variance game, as there is the potential to win big will always be there. For the base game, the number 40 will pay out the most, with only one segment containing this number and the payout being 40/1.
When the maximum multiplier is in place, you can win up to 500x your stake. The stake sizes that you will have access to when playing Mega Wheel will vary. Some operators will allow you to place very small bets, with some having large max bets, making it ideal for high rollers.
Popular Mega Wheel Strategies
While there is no definitive type of strategy that us used when playing Mega Wheel, there are some tips to keep in mind when you try out this title for ourself. Soe people try to take a scatter gun approach whereby they place a wager on every single number.
The idea is that you will hit a multiplier within the first few spins of your session. However, this is a more high-risk type of approach that won't often pay off. Other people will prefer to focus their bets on just one number and hope that you will hit a multiplier. In terms of maximizing your chances of being profitable, you will be best served by betting on number 2 or 5.
There will then be a strategy that sees you spreading your bets across a few numbers. This could be five bets on the number 1, three bets on the number 2, a single bet on 10, and a single bet on number 20. This will allow you to have half the entire board covered. Mega Wheel is a game that allows you to have a lot of casual excitement, while also having the chance to get some tasty returns if you manage to hit the multipliers.
Conclusion
Mega Wheel is similar to a lot of the other wheel-based games that you will come across at live casinos. This is a Pragmatic Play title and has its unique differences when compared to the likes of Spin a Win and Dream Catcher.
Mega Wheel is a hybrid of these different styles and beings something new to proceedings. The presence of strong multipliers add a lot of excitement and intrigue, meaning there is plenty of suspense present with each and every spin of the wheel.