Win around the clock with Late Night Win!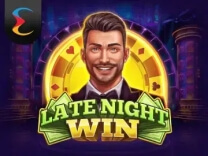 Released by boutique software provider Endorphina, the Late Night Win slot certainly has some impressive features to offer you, regardless of whether you are new to playing online slots or consider yourself to be a seasoned professional.
Boasting a 5x3 reel grid, it is very fair to say that the layout is particularly easy to understand, while the slot and gameplay itself is nice easy to follow.
What also makes this a favorable choice is the fact that it is attractively designed, with a visually friendly color scheme that depicts glamor and style in every sense of the words.
Although it is called 'Late Night Win', you can actually play at any time of the day, so do not let this put you off!
You may actually have more luck if you play during the day, because the title might deceive some players and as a result, there could well be fewer players taking part in the day.
What can you find at Late Night Win?
You can be forgiven for thinking that the design of this slot might remind you of an actual casino, however, we feel that this considerably adds to the gameplay experience, and the general consensus about this appears to be positive.
Beginners may be put off by the minimum spin amount of 0.25 your stake, however, this goes up to a very generous 200.00 per spin, which means there is an opportunity to win a considerable amount of money.
If you are new to playing, you may want to consider using the demo mode first in order to get used to how this works, because you can do this without the need to wager real money; this can be a very useful tool.
With all of the standard symbols, the main things to look out for in this slot are the bonus features. Of course, like usual, the wild symbol substitutes for all other symbols to create winning combinations that can in turn unlock the bonus rounds. In addition to this, they can add to your bankroll.
If you get five chips, this means that you will subsequently unlock the bonus game. As a result of this, you then get awarded three attempts in order to land a new symbol and should this occur, you will be rewarded with another three chances.
Should you strike a bonus symbol during this, you will find that the bonus wheel appears. As a result of this, the Wheel of Fortune can return a win of 300x your original stake, with this being the largest pay out in the slot.
What is our verdict of the Late Night Win slot?
Overall, this is a very simple slot game to understand, which can make it ideal for beginners once they understand how it works and feel comfortable having tried out demo mode.
The striking design also makes it particularly enticing and the Wheel of Fortune bonus feature definitely adds to the overall experience.
Ultimately, we feel that this is certainly worth checking out!
Written for onlinecasino-southafrica.co.za by Adiela de Bruyn - on 03-10-2023