Luxor
The Luxor is one of the older casino complexes and one of the most distinctive, based on an Ancient Egyptian theme. That theme includes a dramatic light beam that shoots into the sky from the top of a pyramid, and an enormous sphinx. Owned by MGM Resorts International, it has a reputation as one of their most reasonably priced casinos. (3900 S Las Vegas Blvd, Las Vegas, NV 89119, United States)
Estimated reading time: 3 minutes.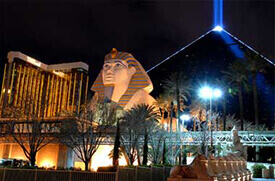 Location
The Luxor is based on the south side of Las Vegas Boulevard. It is situated between two other well-known casinos, the Excalibur and Mandalay Bay. The highway network and Las Vegas International Airport are easily accessible from this central location. Those arriving by car can access the valet and self-parking facilities through Frank Sinatra Drive. The cost of parking is determined by the length of your stay and your status within the casino Rewards Program. Holders of the M Life credit card granted free self-parking.
Casino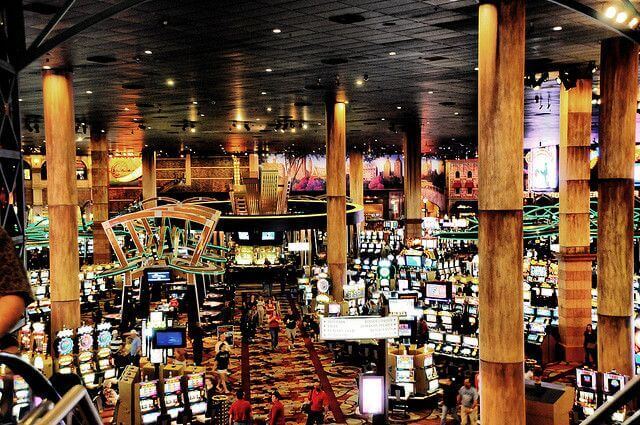 The casino floor is modestly decorated and doesn't compete with the luxurious surroundings of some of the more expensive venues in Las Vegas. It offers everything that the casino fan would expect, and at 120,000 square feet, is one of the biggest gaming spaces in the city.
Table game fans can enjoy an impressive 87 games, spread across the casino floor. They include multiple varieties of casino classics Blackjack, Baccarat and Roulette, along with Craps, Pai Gow Three Card Poker, Let It Ride and other speciality games.
For those who enjoy their slots gaming, there is a solid selection of over 1,100 slots machines on the casino floor. Their roster of slots titles includes a scattering of classic games, but the majority are modern video slots, offering high definition graphics and immersive game-play. There is also a dedicated slots tournament section, which hosts daily slots competitions. It includes popular slots titles such as Willy Wonka, Wheel Of Fortune and Ski Pinball, along with a High Stakes slots area for those who want to wager higher amounts.
Sports betting fans are well served with a large sportsbook section, offering plenty of screens to follow the latest sports action. There is even an eSports Arena, allowing visitors to bet on the outcome of professional video games competitions.
Accommodation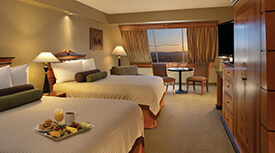 There are over 4,400 rooms at the Luxor, making it one of the largest hotel-casino complexes in the city, and most of these are competitively priced. Standard rooms sizes are 420 square feet, but you can opt for a tower room at 449 square feet. If you're feeling like a little luxury, there is a range of suites to choose from including the Pyramid Corner Suite and the Tower Two Bedroom Penthouse.
Hotel guests also have access to Wifi, the hotel pool and the fitness center, when they pay the nightly resort fee.
Leisure
Like most of the major casino complexes in Las Vegas, the Luxor hosts a spa and fitness center. It provides a wide selection of health and beauty treatments, including massages, facials, hair services, manicures and waxing. The fitness area is open most of the day and offers the full complement of exercise machines. For those who want to cool off with a swim, there is over 19,000 square feet of pool space.
Restaurants and Bars
The Luxor offers a good range of dining options, including a bustling food court, and many popular food outlets are represented. These include Starbucks, Backstage Deli, along with modestly-priced restaurants that offer a selection of cuisines, from Mexican to Chinese. For fine dining, there is only one venue; Tender Steak and Seafood, which offers an impressive choice of wet and dry-aged steaks and an array of tasty seafood. Although there is no nightclub at the Luxor, there are plenty of opportunities to let your hair down. Try the Temptation Sundays pool party and five separate bars.
Conclusion
Although some visitors might be disappointed that the Luxor doesn't make more of the Egyptian theme beyond the external architectural features, overall, this is a solid Las Vegas venue. It provides a selection of slots, table games and amenities that should satisfy most casino fans. With ample accommodation and a host of tempting restaurants and bars, the Luxor provides an affordable and easy-going casino option.