Mobile casino
The widespread and increasing use of mobile phones devices in South Africa has inevitably led to a demand for mobile online casinos. The ability to play the whole range of slots and table games available to desktop users on mobile devices has transformed the online gaming experience. Mobile casinos are now an established part of the gaming world.
Estimated reading time: 6 minutes.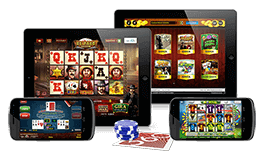 Choose a great South African casino
The rise of mobile casinos
The rapid growth in the ownership of smart phones in South Africa has meant that large numbers of South Africans have grown used to the idea of using their phones. This includedes to shop, browse the internet and carry out a wide range of transactions. South Africa's online casinos have worked hard to serve this appetite for mobile technology. They have developed their mobile casinos so that South African players can gamble at their convenience.
A significant factor in the development of the South African mobile casino was the decision of one of the nation's major financial institutions. In this case the First National Bank, to take payments via mobile. Their mobile pay point system made it possible for casino players to make easy deposits at mobile casinos. Rather than having to use their credit or debit cards, making the whole process of funding a mobile casino account more convenient.
How to use Mobile Casinos
The most important step when using a South African mobile casino is to check that your casino of choice supports your device. Most casinos support a wide range of operating systems and devices. Some offer more comprehensive compatibility than others. It's important to visit the site's information pages to find out more.
The majority of mobile casinos will be compatible with Apple devices such as the iPhone or the iPad. There may be some problems with older versions of the iOS operating system at some mobile casinos. Also here it's worth checking which iOS version your device runs on.
Most mobile casinos will also work well with Android devices such as the Samsung Galaxy or Google Nexus. It's important to note that some mobile casinos still use Flash player for their online games. Make sure that your device supports Flash. Some older mobile casinos may not support Blackberry and Windows phones. Though the majority will and it isn't too difficult for Blackberry or Windows phone users to find a suitable mobile site.
Mobile casino technical requirements
Smart phone technology has made such rapid advances. In tandem with the rise of 3G networks in South Africa, that all mobile phone users should be able to enjoy the full mobile casino experience. Certainly anyone with a relatively new phone will have no difficulty in using these sites. And sampling the great range of games available to the mobile casino player.
With most mobile casinos, there is no need to download any application or software. They can be played through your mobile browser, either using Flash player or the newer HTML5 technology. This is compatible with all mobile devices.
Mobile casino games
Thanks to the advances in casino software and mobile devices that have been made over the last few years, mobile casino users can enjoy an experience that is the equal of playing these sites through a desktop computer. South African mobile casinos bring you an incredible range of games. From life-altering progressive jackpots and 3D video slots to classic table and poker games. All of them literally at your fingertips wherever you travel.
The range of bonus features and rewards for mobile casino users is just as extensive as those enjoyed by regular online casino players. As mobile casinos are keen to attract and retain their customers, you should be able to take advantage of many no-deposit and welcome bonuses. This along with reward schemes and loyalty bonuses.
Payment options with mobile casinos
When you've found a mobile casino that suits your mobile device and playing style, you will find it easy to make deposits. Afterwards you can start playing with real money. South African mobile casinos support a wide and growing choice in secure banking methods for making both deposits and withdrawals. Reputable mobile casinos employ the latest technology. This includes SSL encryption. All to keep your sensitive information protected. And giving you the peace of mind that your financial transactions are safe and reliable.
Mobile casinos support the most familiar banking options. Including credit or debit cards, bank wire transfers, e-wallets and other local payment facilities. All deposits and withdrawals can be made quickly and easily on your mobile device. Though fees and time scales may vary according to the method you use. Remember to check the relevant terms and conditions on the mobile casino's banking or general information pages.
Mobile casinos summary
Playing casino games through mobile devices is a natural development in the growth both of casino gaming and mobile use in South Africa. Modern South African mobile casinos make it possible to access the latest and most sophisticated casino games. Furthermore they offer the same high level of security and ease of financial transaction that South African players have come to expect when playing at regular online casinos.
💡 How do mobile online casinos work?
Mobile online casinos are made to be played on mobile devices like smartphone, tablet or smart tv. You can choose to download the app or just play from your browser. Mind that the games can only be played if your device has a WIFI or minimum of 3G connection to the internet.
💡 What games can be played?
Depending on the software of the online casino you choose, a lot of games can be played. You can think of classic games like roulette and blackjack, but also great modern slots and live casino games. Nowadays the quality of mobile games is very high and the same as if you play from your desktop.
💡 Do mobile casinos take a lot of data transfer?
Probably, yes. If you choose to play from your browsers, all games you choose to play need to be buffered and every win or lose needs to be processed. If you download a casino app, a lot of that information is already downloaded on your device before playing. When you do not have a lot of mobile data left (when not on WIFI), it is smart to check your allowance before you start playing.
💡 How do I know if my mobile device is compatible?
When you have a modern device, less then 5 years old, it should work. It is important that you have your IOS or Android updated to the latest possible version. If your device is older, you can try and see if the casino offers support for your device. If not, you can try to download another browser from the appstore/google play like FireFox or Chrome and try if that works.
💡 What happens if I lose connection while playing?
When you are on the move it is likely that you can lose your connection to the 3G or WIFI connection. If you are playing and lose your connection, your bet is still there. When you place a bet, this is communicated to the casino server. While you are disconnected the roulette will spin or the slot will give result. As long as you pushed the SPIN button or placed bets before disconnecting. When you are able to get back online again, you can find the result of your bet in the 'bet history' of the casino, or by simply checking your balance.