Football betting
Football is the world's most popular sport, and as long as football has existed, there have been people who want to bet on it, whether that's the English FA Cup, the World Cup or the ABSA Premiership. And in recent years, the internet revolution has made it possible for South African football betting fans to bet on their favourite teams and tournaments quickly and conveniently, using their mobile devices, or while relaxing at home.
With a global football betting market worth more than $600 billion, football betting is now big business, with an extremely competitive online football betting industry offering football fans a huge array of betting opportunities. So, to help you to find your feet in this exciting world of sport and betting, here is our complete guide to online football betting.
Estimated reading time: 5 minutes.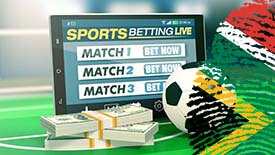 Plenty of Football Betting Options
The first thing you will notice when you start to check out football betting sites is the sheer variety of betting opportunities available. Of course, the major betting attraction in the football world is the World Cup, held every four years, with millions of football fans around the world pitting their wits against the bookmakers to find the winners.
But beside the World Cup and the other popular international tournaments such as the African Nations Cup, domestic football is the big draw for football betting fans. And when it comes to the major tournaments such as the ABSA Premiership or Italy's Serie A, online football betting companies will offer a huge variety of markets, which could be as many as 100 for some of the most popular games, providing lots of opportunities for profit.
Variety of Football Bets
The most popular type of football bet is still the traditional Match Winner market, in which you can bet on Home Win, Away Win or Draw. But as you would expect, with the majority of online football bettors playing these markets, sports betting companies take very few chances with their odds, which is why some experienced football punters choose other options. Here are just a few of the available markets that you will commonly see online:
- Over/Under
- Correct Score
- Draw No Bet
- Total Corners
- First Goal Scorer
- Half-Time/Full-Time
- Handicap
- Total Card Points
It's beyond the scope of this article to explain these bet variations in full, but one of the benefits of betting on football online these days is that modern bookmakers are focused on giving customers what they need to place a bet and you will find a full explanation of how each betting option works on your favourite football betting site.
And beyond these common variations, it is also possible to bet on a huge array of other markets, from the winning team in the English Premier league to the next South African domestic manager to be sacked. For the modern football betting fan, the rule is: if you want to bet on something, there is a betting site somewhere that will take your bet!
How to Bet on Football
Although the modern online betting company design their sites to be accessible to newcomers, it can still be a little bewildering the first time you log on to make a bet and see a screen full of sports, markets, tabs, promotions and odds.
To start betting on football, the first thing you need to do is register with your favourite site, which will usually involve clicking on the relevant tab that says Register or Sign Up. The signing up process will require you to fill in an online form, providing a few details, and you may also be asked to upload copies of identity or address confirmation documents.
Once you've registered, entered your banking details and made a deposit, you will then be able to make your first bet. Football betting sites are usually laid out in such a way that visitors can easily navigate to the event and market of their choice.
Having found the right market, the process of getting your bet on is simple. When you click on your selection, it will appear in the site's online betting slip, which is usually displayed at the top of the page. From this betting slip you will be able to change your stake, combine your bets into multiples and check your potential winnings before you click to confirm it. All that's left to do is watch the match and cheer on your bet!
Statistics and Data
One of the most interesting developments in the football betting world in recent years is the increasing awareness of the importance of football data. Modern South African football betting fans are able to access an array of statistics to inform their betting, and this change in the football betting landscape is reflected in the way that media companies present their football coverage, providing far more statistical depth than would once be the case.
While it is easy to become lost among the data, there is no doubt that the wealth of information available on sites like Soccerway, Odds Portal and BetBrain and others helps to keep football betting fans informed and even if you have no mathematical abilities, statistics such as shots on goal, possession or pass completion percentage can add considerably to your understanding of the game and give your betting an extra edge.
Conclusion
Online football betting combines the world's most popular sport with the thrill of pitting your judgement in search of rewards and the convenience of being able to follow the action from your home at your leisure. As with any other financial venture, betting on football is not to be taken lightly but as long as you do your homework and bet sensibly, it offers South African football fans a great way to add extra excitement to their pastime.