Angelika System
Roulette player are always on the look out for clever ways to maximise their winnings and reduce their losses. Over the years there have been many systems that claim to do just that. One of the most successful was created in the 1960s by a German woman who caused many a sleepless night for casino managers of that era. Despite its popularity at the time, the Angelika System has fallen out of the headlines in recent years. As a result, younger generations of roulette players may not be aware of this useful roulette strategy.
Estimated reading time: 3 minutes.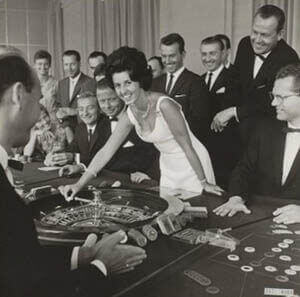 Angelika Tepperwein
The Angelika System is named after a German woman, Angelika Tepperwein. She devised it herself and used it to win money at several German casinos, including the Casino Travemunde. She achieved fame among roulette players when a German magazine published an article about her. The article included a photograph of her stacking a pile of notes, with a huge stack of roulette chips in front of her. The images were taken from the casino security system and leaked to the press, informing the world about this new system.
How does it work?
The Angelika System is straightforward to use and can be picked up by any roulette player, no matter their level of experience. First, players have to pick their starting bet and a betting unit, which will be a fraction of the starting bet. For example, you might choose to start with a bet of R10 and a betting unit of R2. The level of your starting bet will depend on the size of your bank and the level of risk you are comfortable with.
After choosing your initial bet and betting unit, there are two simple rules to follow. The first is that you should only bet on binary outcomes; that is red/black, high/low, odds/evens, where the two outcomes are equally likely. The second rule is that after a winning bet, you decrease the size of your next bet by the betting unit. After a losing bet, you increase it by the same amount. For example, using the staking levels mentioned above, if you bet R10 and lose, your next bet will be R12. If you were to win, your next bet would be R8.
Advantages and Disadvantages
The Angelika System is a variation of the D'Alembert System, and is based around the principle of compensating for a loss by increasing your bet on the next spin. The disadvantage of this system is that a series of losing bets will lead to you staking ever larger amounts. But by restricting your bets to binary outcomes, the sequence of losing bets is likely to be relatively short. As long as you choose a sensible starting bet size that suits your betting bank and your sensitivity to risk, you will minimise major losses.
This flexibility of choosing the size of your starting bet and betting unit is one of the attractions of the system, making it suitable for players of any experience level. By making relatively small bets on binary outcomes, there will be a steady flow of wins and none of the dramatic swings of fortune associate with more erratic or risky betting strategies, which means you will stay in the game much longer. And by placing small bets, you will be able to try the system out to see if it works for you, without risking significant sums.