Gonzo's quest
Gonzo's Quest Slots was released in 2010 by NetEnt and represents something of a milestone for the company, as it was their first Platinum game. It's a popular gold-hunting Eldorado-themed game that features unusual Avalanche Reel play. It also offers a generous Free Falls Bonus feature offering free spins and multipliers.
Estimated reading time: 3 minutes.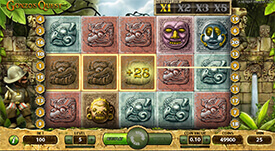 The Story
The game is based around the story of explorer, Gonzalo Pizarro, a Spanish conquistador who has travelled to the coast of Peru in 1541 on a search for gold. One of his crew members sneaks ashore during the night, looking for the lost city of gold Eldorado, so players have to help Gonzo as he tries to get his hands on a share of the treasure.
Basics
In terms of play, Gonzo's Quest is a fairly standard five reel, twenty pay-line game. As with many NetEnt titles, it is beautifully realised with high definition graphics and fun animations. The play is set against a mysterious jungle background, and it features a range of strange-looking Mayan symbols and carvings. There's also a nice touch whenever a player wins as the Gonzo character starts to dance, which adds to the fun atmosphere of the play. The game is playable from as little as R3.79 up to R948 so will appeal to beginners and small stakes players as well as more experienced slots gamers.
Avalanche Reels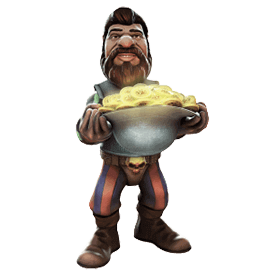 One unusual feature of this game is the unusual take on reel operation. Instead of the familiar spinning reels, players will see the symbols tumble down from above in a system of play known as Avalanche Reels. For those who have played Da Vinci Diamonds, the Avalanche Reel dynamic has some similarities to the Tumbling Reels used in that game.
As the play progresses, the distinctive Mayan symbols will line up. If they form a winning combination, they will explode and disappear entirely, leaving the remaining symbols to drop down into the gaps. New symbols then appear at the top of the screen. In the top-right hand corner of the screen is a multiplier meter, which can go up as high as 5x giving you the potential to earn a generous 5x on every successful spin.
Free Falls Bonus
The Avalanche Reels play is a distinctive part of the game, but its main feature, that will be of most interest to players, is the Free Falls Bonus feature. This is started by lining up three Free Fall Scatter symbols on three reels. Pull this off and you will be rewarded with ten free spins and the multiplier meter range changes. With the Free Falls Bonus feature multipliers range from 3x to 15x so in theory you can earn ten free spins with a 15x multiplier.
Conclusion
Although it is one of the older slots titles out there, Gonzo's Quest has continued to prove popular with slots players. Its jackpot of 12,500 coins doesn't rival some of the huge payouts associated with more modern games, but it's fun to play and easy to get into and while it doesn't offer regular wins, those wins when they come tend to be substantial. Gonzo's Quest is a solid, enduring slots title that is likely to remain popular for some time to come.