Closing your casino account
For most South African online gamblers, using their favourite casino is not an activity that causes them any problems. But for some people, gambling can become an addiction, which can lead to serious consequences. Gambling addicts can end up losing everything they have, including their homes, their savings and their relationships and some even turn to crime to fund their habit. The first step in overcoming any addiction is to admit that you have a problem, but in many ways, this first step is the hardest.
Estimated reading time: 4 minutes.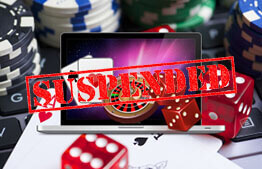 How do I know if I have a problem?
If you use a responsible and reputable South African online casino, you should find that they have a section of their website dedicated to tackling problem gambling. This will usually give you full details of the tools they offer to help, as well as a guide to spotting whether you have a gambling problem. Some of the common indicators of gambling addiction are:
- Gambling for longer than you intend in each session
- Spending more money on gambling than you intend
- Losing track of time while gambling
- Neglecting other areas of your life in order to spend time gambling
- Gambling with the intention of winning back money you have lost
- Gambling with money that should be used for something else
- Borrowing money to gamble
- Reluctance to tell people about your gambling habits
- Regret at how much money you have lost on gambling
- Feeling restless when denied the opportunity to gamble
If any of these indicators regularly apply to you, then you may have a gambling problem. So how do you tackle it, and how can online casinos help?
Limits
Some online gambling sites will give you the option of setting up daily, weekly or monthly limits on how much money you can wager on their games, if you are concerned about your gambling. This can be arranged by contacting customer services, and once the limit is in place, it should be impossible for you to spend in excess of that figure. But while this is a useful feature for South African players who want to control their gambling, those with a more serious gambling problem may need to consider self-exclusion.
Self Exclusion
This is a process through which an online casino will make it impossible for you to gamble with them for a set period of time. This can be a matter of months, years, or even a permanent exclusion. Any responsible, reputable online casino should offer the option of self-exclusion. It can be arranged through contacting the casino's customer service department and explaining that you want to self-exclude for a period of time or permanently.
Self-exclusion means that you are unable to gamble on any of the casino's games using the account you have already set up. During the period of your self-exclusion, the casino should not only block you from gambling with your account. They should also prevent you using your personal information to set up a new account, and they should refrain from sending you any promotional material related to betting promotions and gambling in general.
For self-exclusion to work, however, you need to ensure that you make the self-exclusion request with every site that you have an account with. Unfortunately, as the South African online gambling market is unevenly regulated not every casino offers self-exclusion as an option, which means that closing your account is the only way forward.
Closing your account
The best way to give you a chance to beat your gambling addiction is to permanently close all of your casino accounts. This may seem drastic, but it will give you a clean break from gambling, enabling you to get to grips with your problem. Some casinos offer the facility to simply delete your details with a 'Close My Account' option, but it is usually a good idea to contact them directly. By explaining why you want to delete your account and asking them to remove you from their promotional emails list and to add your details to a list of customers who are not allowed to open accounts with them.
Unfortunately, not all online casinos offer this service, so you may need to resort to blocking software. These come in two types: general blocking software used to limit access to certain categories of sites. Gambling-specific software such as NetNanny, GamBlock, BetFilter and GamBan, which when installed, will ensure that you are unable to access any site that has a gambling connection.
Conclusion
If you think you have a gambling problem, it is important to take action. Ultimately, a gambling addiction can only be overcome by the individual concerned. By using the tools that the gambling industry makes available, including Self-Exclusion, Account Closure and Gambling Blocking Software, you can increase your chances of beating your gambling problem.