South African Responsible Gambling Foundation
The South African Responsible Gambling Foundation (SARGF) is founded in June 2000 and incorporated in 2004 to combat problem gambling in South Africa ever since the gambling industry got legalized in mid-1996.
The foundation is mostly known for its National Responsible Gambling Programme (NRGP) And is a public-private initiative between government gambling regulators and operators within the South African gambling industry. Operators within the South African gambling industry include both online and land-based casinos, bookmakers, bingo halls, and poker rooms.
Each of these operators donates a voluntary contribution of 0,1% of its Gross Gambling Revenue, which is money staked minus the amount paid out in winnings, to the SARGF. Apart from these donations, the SARF also receives public grants to host special projects and provincial responsible gambling interventions and programs.
As an independent regulatory body, the SARGF reports everything related to gambling in South Africa to the national authorities. The key focus of the foundation is to prevent and treat compulsive and addictive gambling in South Africa.
If you think you have a problem with gambling or if you think someone you know is suffering from a gambling addiction, you can call the toll-free helpline: 0800 006 008 or SMS HELP to 076 675 0710. Alternatively, you can send an email to helpline@responsiblegambling.org.za.
Estimated reading time: 5 minutes.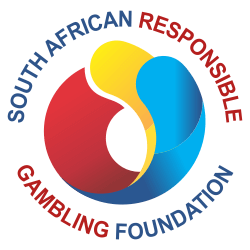 Self-exclusion and Intervention
The SARGF provides counseling and support for excluded individuals and immediate family members through its National Responsible Gambling Programme (NRGP). Via this program, individuals can exclude themselves from gambling activities, both online and offline. Self-exclusion always comes with a 6-month cooling-off period and within this period of exclusion the excluded individual is provided with free counseling.
You can request self-exclusion at provincial gambling boards or through the online casino or bookmaker you're playing at. Note that it is the responsibility of the player who requested self-exclusion to ensure he or she complies with the terms of the self-exclusion.
In the case, a player is denied access to a gambling venue because of being self-excluded and the player objects, the venue can deny the player future access and additionally charge the player for trespassing.
A self-excluded player can send a request for upliftment of the self-exclusion at any given time. However, the self-exclusion will only be uplifted if the player has been self-excluded for at least six months and has had at least one session with a SARG treatment professional.
What Other Measurements Can I Take Whilst Gambling Online?
If you enjoy playing at online casinos but don't want to become addicted to gambling, wager more money than you should, or play for longer than originally intended, you can set deposit, loss, and play time limits from within your online casino account settings.
Although the exact procedures to do so differ from casino to casino, all of our top-rated South African casinos allow players to set limits for themselves.
When are You Considered a Problem Gambler?
It often happens that those around you already suspect that you are addicted to gambling, while you don't yet see or don't want to see it. Denying being a problem gambler is part of being addicted to gambling.
Are you wondering whether you might have a gambling problem, are you concerned about your gambling behavior, or do you have gambling debts?
Then take note of the following: a gambling addict slowly but surely ends up in a vicious circle. At first, you play to win, and if you lose you play to win back your lost money (called chasing losses). This can go on for a long time, resulting in gambling debts.
There are a number of signs or characteristics of an addiction by which you measure yourself whether you are addicted to gambling or not. The most important characteristics of gambling addiction at a glance are:
Constantly thinking about gambling
Lying about gambling
No control over gambling, adhering to one's own rules and intentions
Failed attempts to stop gambling
Neglecting social contacts
Not going to work or school
Causes of Gambling Addiction
There are several reasons why someone can become addicted to gambling. These include personal characteristics (sensation-seeking or a negative self-image), environmental factors (friends, family, and acquaintances), the type of game you play, and social factors.
Consequences of Gambling Addiction
When you're addicted to gambling, gambling can cause a number of problems, such as:
Rising debts because your borrow more and more money
Commit fraud or steal to get money
Debts: in the long run the odds are not in your favor, so gambling costs money
Arguing by lying and downplaying problems
Fatigue, exhaustion, or being restless
Loss of work, home, school, and/or relationship
Loneliness due to neglecting social contacts
Frequently Asked Questions About the SARGF
💡 What does the South African Responsible Gambling Foundation do?
The South African Responsible Gambling Foundation (SARG) prevents and treats disordered gambling among South African residents.
💡 What is the SARGF treatment programme?
The SARGF treatment program is a free-of-charge 24/7 available service program that includes counseling by trained and qualified professionals. This program comes in both outpatient and inpatient forms of which the outpatient program consists of face-to-face counseling whilst the inpatient form comes in the form of counseling by phone.
💡 How do casinos support awareness around responsible gambling?
They fund the National Responsible Gambling Programme (NRGP) and include a responsible gambling slogan or tagline "Winners know when to stop" in their commercials.
💡 What does the SARGF logo mean or symbolize?
The SARGF circle-shaped logo refers to a holistic approach to treatment and confidentiality whilst the bright colors refer to optimism, positivity, and strength.
💡 How are gamblers categorized?
The South African Responsible Gambling Foundation categorizes gamblers under four categories: non-gamblers, recreational gamblers, problem gamblers, and compulsive gamblers. About 1,5% of the entire SA population consists of compulsive gamblers.