Start Your Winning Streak at Omni Casino With Its Long Running Hot Seat Campaign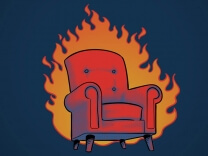 To expand their brands and engage players, many South African-focused casinos rely on the best casino campaigns and promotions. Whether these are in the form of new customer bonuses or regular campaigns, these operators always put their best efforts forward to come up with the best offers for players. One leading casino that caters to players from South Africa is Omni Casino, a brand owned and operated by Peak Interactive N.V. As a leading destination for local players, this gaming platform delivers a diverse collection of casino games with top promotions to boot. It regularly showcases top promotions and bonuses for all kinds of players to encourage repeat players and customers.
Whether you are looking for new customer bonuses, free spins, or cashback, Omni Casino has already done it for its members. But there's one standard casino promotion that continues to impress at Omni Casino- the 'Hot Seat'. Compared to other standard casino promotions, its Hot Seat campaign guarantees players a win. To take part in this offer, simply log in and play your favorite casino games for one month and you can collect up to $500.
Month-long Campaign for the Regular Players
At Omni Casino, you are now given reasons to stay and play for a long period. Thanks to the Hot Seat promotion, your frequent plays at the platform will give you points and guarantee you with prizes. Here, in each qualifying day, you will earn a Hot Seat Point. And the 'hotter' the seats become, the bigger the prize that you can collect. And if you can play consistently for 28 days during the promotional period, then you get the chance to collect up to $500! The points and prizes that you can get here are on top of the freebies you earn from its special events and loyalty program. Here's a breakdown of the freebies you will get for playing continuously on the site:
Chilly. Play for 5 to 6 days and collect a $15 bonus.
Warming. Play for 7 to 11 days and collect a $40 bonus.
Warmer. Enjoy your favorite games for 12 to 17 days straight to earn a $105 bonus.
Toasty. Enjoy games for 18 to 22 days straight to earn a $215 bonus.
Hot. Play continuously for 23 to 27 days to earn a $330 bonus.
Jackpot Hot. Make it 28 days straight or more to earn $500 in bonus.
Other Promotional Details to Keep in Mind
To start earning points and bonus, you need to play continuously for at least 5 days and with a minimum spent of $1,250 per day. Also, this promotion does not cover video poker. All point and bonuses that are earned as part of the promotion are credited by the 5th of the succeeding month. Furthermore, the bonuses credited to your account are not subject to playthrough requirements.
Written for onlinecasino-southafrica.co.za by Adiela de Bruyn - on 23-09-2019