Springbok Casino Celebrates Halloween With Free Spins in Bubble Bubble 2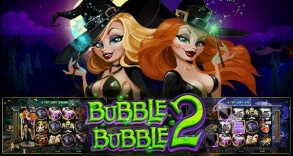 Sometimes, the best promotions and casino campaigns for players are those that are hosted in celebration of a season or event. And this is exactly what South African players can expect when they visit Springbok Casino this month of October. As part of its campaign to provide the best services and entertainment to its players, Springbok Casino has prepared a Halloween-themed casino promotion.
In this limited-only promotions from Springbok, registered players of the casino who will opt-in for the casino bonus are treated to 25 free spins that can be played on Bubble Bubble 2. This is not the first time that Springbok has launched a casino promotion to celebrate an event, a special cause or a holiday. A few months ago, the operator paid tribute to African wildlife and offered players a chance to rediscover the African Safari and enjoy special games along the way.
Springbok Casino Celebrates with Its Halloween Costumes
Halloween is a lot of things for different persons. But for many, Halloween is also about spooky yet fun and creative costumes. And for October, Springbok is inviting everyone to take part in the party. The casino has recently published a blog that provides customers and players colorful and creative ideas on what Halloween costumes to wear. In its newly published blog, it identifies several popular Halloween costumes like the ones inspired by comics, cartoons, celebrity couples, Sci-fi movies, animals, and even food. The website has also published the Springbok's Halloween Family Halloween Costumes video that identifies other trendy costumes that players can use. The videos also take a look at the most creative, scariest, and even funniest costumes that you can use.
Promo Code: COSTUMES for Bubble Bubble 2
The real treat this year comes in the form of a bonus that players can earn this Halloween. When you sign up for this promotion, you get a chance to collect free spins on Bubble Bubble 2 slot game. To earn your 25 free spins on the game, you need to use the coupon code: COSTUMES. This promotion will run until the end of October.
Bubble Bubble 2 Slot Game
As the game name suggests, this slot game is inspired by the popular Bubble Witch game that you can play on Windows desktops. In this slot game, you will meet two sexy witches who guard the three deluxe bonus features of the game. When you play this game at Springbok Casino, watch out for the Expanding Wilds. These are your high-paying symbols of the game which can multiply your winnings up to 9 times. You will also find the scatters which can trigger up to 33 free spins. In short, this slot game available on Springbok Casino can deliver unique entertainment in time for Halloween. If you are from South Africa, then this is one promotion worth checking out this month!
Written for onlinecasino-southafrica.co.za by Adiela de Bruyn - on 20-10-2019