Springbok Casino Mints a New Winner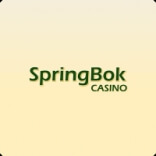 When it comes to the leading South African casinos, the name 'Springbok Casino' always get into the conversations. Powered by Real Time Gaming, the website is a popular destination when it comes to a great selection of casino games and truly innovative promotions. Springbok has consistently provided the best games for SA players looking for entertainment and the best prizes and jackpots.
And speaking of prizes, this gambling platform has validated once again it's branding as the 'home of winners'. In the latest press release from the website, the management has announced another mega winner who goes by the name of 'Derek'. Based on the casino's records, Derek is a loyal player of the casino and has won multiple times on the platform. In a statement, the lucky player of Springbok played and ended up with a balance of 325k after using the Cashback Bonus offer of the casino. The records also showed that Derek focused on popular slot games like Megaquarium, Bubble Bubble 2 and Eternal Love which helped him collect the winnings.
Megaquarium just purely entertaining
The first game that Derek played was Megaquarium, a popular slot game from RTG Gaming with a marine theme. Offered with calming and a colorful theme, this slot game delivered the entertainment for players. Players who tried this game acknowledges its unique look and refreshing theme. When Derek played the game, he managed to unlock the Super Game feature that offers 3 free games and an x5 in-game multiplier. During this round, Derek managed to win R40,800. Also, he managed to activate the extended feature of the game which allowed him to net R53,100. He then activated another random feature which rewarded him with R41,250. Finally, another R33,000 was earned from a random feature.
Bubble Bubble 2 fun and prizes
This is another exciting slot game that boasts fairies and witches on the reels. This game comes with a bonus round like the Greater Ghost feature. Derek managed to play the bonus round and it allowed him to collect 20 free games with 9 Wilds. Thanks to this feature, his account is credited with R248,380.
Eternal Love
In this horror-yet fun themed slots, Derek continued his winning streak. Aside from the thrilling display and graphics, this game also offers several bonus features including the Extended Life. As the name suggests, this feature rewards players with extra opportunities to play and win. Derek manages to activate the bonus mode and collected R33,750.
These are just three of the most popular slot games that you can now play at Springbok Casino. More importantly, these are the exciting slot games that rewarded Derek with a winning streak. After his game sessions at the casino, he managed to collect a top jackpot worth more than R325,000.
If you are looking for a satisfying casino experience and want a shot at the best jackpots, then we highly recommend Springbok Casino. This platform does not just deliver the best RTG games; it also offers the best winnings that can make every player happy!
Written for onlinecasino-southafrica.co.za by Adiela de Bruyn - on 28-11-2019