Your Lucky 13 Rebate is Available at Yebo Casino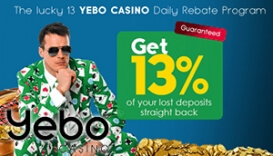 Sometimes, the best promotions are those that are continuous with no definite end. With this arrangement, you can pace your play and enjoy the perks any week you want it. If this is what you're looking for then, Yebo Casino is the right destination this month.
As one of the top-rated gaming platforms for South African players, Yebo Casino delivers a fun mix of standard and limited run-only promotions that can enhance your experience. A popular standard offering at the platform today is ''Lucky 13 Rebates Offer', an exciting promotion that offers a return of 13% on all your losses made using your deposits daily. At Yebo Casino, you can still be lucky if you've lost some of your deposits playing your favorite games. Under this fantastic promotional arrangement, you can back 13% of what you've lost, every day.
How the offer works
This ongoing promotion is available for all registered customers of Yebo Casino. For every deposit worth R25 without using a promo code or bonus, you qualify for the rewards program. If during the day you lost your deposited funds, the 13% rebate on the losses will be credited to your account the next day. In this offer, there's no need to opt-in since all depositors are automatically included in the promotion. If you have deposited R1,000 on Tuesday and lost, the management will credit R130 to your account Wednesday morning.
Just like other offers, there are limits to your rebates. The maximum rebate that you can collect daily is R5,000. And if you qualify for the rebates, the funds credited to your account are subject to a x20 playthrough requirement.
Other rules of the rebates program
To avoid other issues when enjoying the promotion, it's best that you pay attention to other terms and promotions. For example, you should deposit a minimum of R25 and in increments of that amount. If you deposit using a bonus or coupon, then this deposit will not qualify for the rebates. Also, a player will not qualify if he has a pending coupon on the platform. If you have a pending coupon with Yebo, then the rebate amount shall be deferred until such time that the coupon has been used up. Furthermore, the rebates will expire after 7 days when not used.
This promotion benefits the players in many ways. One, this offer is available daily. If you're a regular customer of Yebo Casino, then you can also earn rebates on a regular basis. Two, if you qualify for this promotion, you don't need to contact Support. All rebates shall be credited to your account before 9:00 AM the next day.
In this guaranteed rewards programs of Yebo, everyone ends the day with a smile. Check the site today and enjoy the rebates that come with your deposits.
Written for onlinecasino-southafrica.co.za by Adiela de Bruyn - on 23-03-2020