Get More from Your Yeti Casino Experience By Signing Up for Its Unlimited Cashback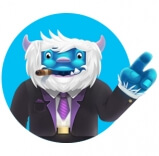 The South African gambling market is highly competitive, thanks to increasing demand from players and casino enthusiasts. As a player, you can see this in the growing number of online casinos and sportsbooks that cater to SA players and accept ZAR as the primary currency.
Today, you can find dozens of top-tier SA casinos that are ready to accommodate your gambling needs. However, not all casinos are created the same; there are a few gaming platforms that manage to stand out among the rest. Yeti Casino, a brand owned by L&L Europe Ltd of Malta, is one of the top gaming providers in the region. This casino manages to retain its good standing among top websites by offering a lucrative selection of exciting bonuses and promotions. One such promotion that's currently available on the platform is its 'Unlimited Cashback'.
What's in a cashback?
A cashback offer is one of the most lucrative promotions, at least from the player's perspective. As the term suggests, this promotion promises to return a portion of the funds that you have lost by playing real-money games. Just like a deposit bonus, a cashback promo is presented as a percentage and covers up to a certain amount. For example, a 20% cashback up to $100. This means that you're eligible to receive 20% of what you have wagered, limited up to $100. Most of the time, casinos will run this promotion for a limited time, or only available for a certain day.
Cashback offer that doesn't stop giving
With Yeti Casino, you can count on an unlimited cashback offer. As soon as you create an account with Yeti, you are automatically eligible to collect a cashback bonus. Based on its terms and conditions, for every deposit made on Yeti, you can collect a 10% cashback bonus. To enjoy this specific bonus, your deposit should not be subject to a bonus and the balance is below a prescribed amount.
Few terms to remember
If you want to enjoy this Yeti offer, you can access it in the casino's section: 'Cashback'. The system automatically computes your cashback for every qualifying deposit made on the platform. You can visit this section to check out the total cashback bonus that you can enjoy. If you want to avail of this bonus offer, simply click 'Activate'. The cashback bonus will be credited instantly to your account 24 hours after completing the deposit.
This ongoing offer is one of the reasons why Yeti Casino is a favored destination among SA players. If you're looking for a continuous casino bonus that offers lucrative rewards, then an unlimited cashback is the best offer to take.
Written for onlinecasino-southafrica.co.za by Adiela de Bruyn - on 30-06-2020