Springbok Casino Welcomes Cash Bandits 3 To Its Portfolio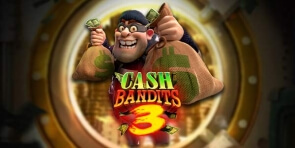 Trust Springbok Casino to continuously upgrade its game portfolio to reflect the latest casino games to play. Last June 5, the operator announced through a blog post the availability of a new slot game to play in real money: Cash Bandits 3. Designed by Real Time Gaming (RTG), this action-packed slot game will give you never-ending fun and adventure as our lovable bandits continue their run from law enforcement.
Now on its third version, Cash Bandits is destined to deliver the same set of excitement that's available on the previous installments. This RTG slot game is now live on the Springbok platform and it's ready to play.
What to Expect from Cash Bandits 3 by RTG
As the title suggests, this RTG slot machine is a cops-and-robbers game that offers a wild set of features and prizes. The game uses a 3 by 5 playing grid with 25 paylines to sustain the action on the reels. Yes, this is another follow-up to the largely successful Cash Bandits from the same software vendors. But don't let the title stop you from loving the game. Although we will be rooting for the bandits, they are not scary or offensive at all. The symbols used on the reels are appealing and cute which makes this slot game a highly recommended title for all types of players. When it comes to symbols, Cash Bandits 3 uses familiar symbols like robbers, policemen, bags of cash, handcuffs, police car, doughnuts, and banks. You will also find a jazzy tune playing in the background that adds to its light-hearted theme.
Aside from the fun theme and cartoon-like symbols, Cash Bandits 3 brings in the goods in terms of features and prizes. One of the best features that you can unlock in the game is the Vault feature which you can activate with at least three Cash Bandit symbols. If this happens, you will undergo a challenge where you need to unlock the code on different vaults. And if you manage to break into the bank, you can unlock a maximum of 390 bonus spins and these are partnered with x23 multiplier.
The hot pursuit eventually leads to the biggest prize in the game. If you're lucky and manage to catch our bandits, then the game rewards you with up to 115,000 times your wager! Now, that's a perfect payout for keeping an eye on our bandits.
According to the casino's press release, the game is live starting July 26. Interested players can download the game or they can enjoy the instant play version of Cash Bandits 3 on Springbok Casino.
Springbok Casino Welcomes a Great Game to Play
In a statement by Mr. Van Wyke, the casino manager of Springbok, he shared that Cash Bandits 3 is a fun slot game to play. Although they are the 'bad guys', they are fun to be with and they deliver great prizes. He added that the RTG software has created another hit, and players can take part in the hot pursuit for prizes and the jackpots.
Written for onlinecasino-southafrica.co.za by Adiela de Bruyn - on 27-07-2020