Live Spin a Win Now Available at Europa Casino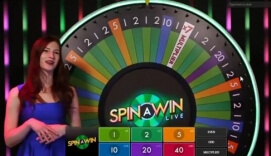 At Europa Casino, players are rewarded not just by premium games but the best promotions as well. To deliver on this promise, this Universe Entertainment Services-owned casino regularly updates its portfolio with the best and newest games from top vendors. A popular casino game that's worth your time at Europa is 'Spin A Win', a unique live casino game that combines the best features of roulette and the carnival experience. 'Spin a Win Live' by Playtech allows you to spin the wheel like roulette for a chance to collect up to 40 times your wager. Also, this game comes with three optional side bets which allow you to collect up to $500,000! If you're looking colorful live dealer game with exciting win potential, then this Playtech offering at Europa Casino is highly recommended!
Here's How to Play, Spin and Win
As mentioned, this game is similar to online roulette with an exciting twist. There's a wheel that's divided into 54 equal sections which represent the bets to play. You will find colored slots for 40, 20, 10, 5, 2 and 1. There are assigned slots too for the x7 and x2 multipliers. Aside from these betting options, you can also play three optional side bets in 'Live Spin Win'-you can predict if the outcome is even, odd or if it will be a multiplier. You will bet on a section where you think its wheel will stop. To help you enjoy this game, Live Spin uses a pointer that points to the winning bet or slot. Since this is a live casino game, players must wait for a specific round to end before they can participate. So, if the game is in progress, you need to wait for the next round before you can place your live casino wager.
If you pay attention to the wheel, you will notice multipliers in play: x2 and x7. In case the outcome of the spin is a multiplier (say a x2), the bets stay on the table and the dealer spins the wheel again to identify the winning number. If the result of the game round shows several multipliers, amounts are multiplied up to half a million dollars. In this game, the time to submit the wagers is limited. You will find a timer in place that will guide players when submitting their bets.
Additional Bets to Play in Spin a Win
As mentioned, this game also offers three extra bets: 'Even', 'Multiplier' or 'Odd'. Here's a short description of each type of side bet:
-Odd. This bet wins if the outcome of the spin is 1 or 5.
-Straight Line/Even. This bet wins if the result of the spin is even like 40 or 20.
-Multiplier. You can collect a payout if your bet on a x2 or x7 multiplier is the winning outcome of the spin.
Other Reminders to Keep in Mind
Aside from the different bets to play and maximum payout, there are also a few rules worth reviewing. For example, if the result of the spin is a multiplier, the two side bets of players lose. Also, there's an option to play several bets at a time. Players can still submit their bets until the expiration of the period to place bets.
Written for onlinecasino-southafrica.co.za by Adiela de Bruyn - on 22-08-2020