British & Irish Lions Rugby Players Get COVID-19 Vaccine Ahead of South Africa Test Series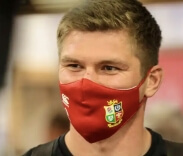 A lot of bettors will be watching this summer's British and Irish Lions test series in South Africa with great interest. For a long time, the series looked like it would be in doubt due to the COVID-19 pandemic. There were also talks of hosting the series in the UK, but these plans were all shelved. The iconic series will go ahead in South Africa as originally planned.
The British and Irish Lions team will not be heading over to South Africa until June. However, they have now gotten their first vaccine doses in London on Wednesday after gathering together for a pre-tour meeting. The UK government gave special exemptions to allow these players to get their vaccines. The likes of the GB Olympic team also got a similar exemption. The Lions team will likely get their second vaccine dose in June before departing to South Africa.
Head coach Warren Gatland and most of the staff already have gotten vaccines. It is believed that the players got a Pfizer vaccine. The only player who did not attend the gathering was Scotland's Finn Russell. The Racing 92 player has already gotten a vaccine in his base in Paris. As well as getting their vaccines, the Lions players also got fitted for their gear, as well as conducted some promotional work and a short squad meeting.
The series going ahead as planned
Even though the pandemic situation is still a serious matter in South Africa, the Lions series is set to go ahead as planned. However, there will be no crowds allowed at the games at the moment. The Lions are playing Japan in a warm-up game in Scotland on June 26. the Lions will then play a few provincial sides in South Africa upon their arrival in the country.
The first test against South Africa will take place in Cape Town on July 24. This will be followed by the second test in Johannesburg on July 31, with the third and final test being held in Johannesburg on August 7.
A lot of rugby fans are looking forward to the Lions action this summer, particularly as many Test teams have had to cancel their summer tours. Bettors will also relish this opportunity to place some exciting bets on this series.
Written for onlinecasino-southafrica.co.za by Adiela de Bruyn - on 27-05-2021