UK Government set to lower Maximum Bet Levels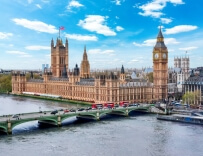 After over two years since a new online gambling bill was mooted in the UK market, it appears that this could soon come to fruition in a bid to help combat problem gambling.
Following a year of political and governmental disruption in the country, which has seen the bill almost initially forgotten about and then seemingly shelved completely after a change of leadership, it appears that the most recent Prime Minister of the country is set to implement change.
The news, it appears, is being greeted as positive by certain entities in the UK, especially charities that specialise in providing help to gambling addicts, as well as an already over-burdened public healthcare system.
What are the details of the proposed bill?
Initial suggestions so far indicate that all operators will have to implement a maximum bet for players, which could be between £2 and £5; however, it is also suggested that those who can afford to wager more will need to prove it.
Reports have circled that the new bill could instruct gambling companies to tighten their industry-standard KYC (Know Your Customer) policy so that it also includes credit checks on gamblers at the registration stage.
For many in the country who are regular bettors, though, who are not risks, this is likely to cause a significant amount of inconvenience, especially having to undergo any financial checks only to be rejected due to an age-old mishap that has since been taken care of.
However, it is reported that more than 2.2 million people are a severe risk in the UK due to gambling addiction, and it is believed that imposing this will significantly reduce the burden on the National Health Service (NHS). As such, there has been a major demand within certain factions of government for a radical change to the way that online gambling companies operate in the country.
Could this Have an Effect on Gambling Companies?
There are a number of arguments for this change being implemented. Perhaps the most drastic is if one or two gambling companies decide to pull out of the UK market altogether because they witness a decline in revenue associated with the new bill.
However, this would indeed be considered a risky measure, especially if other countries decide to follow suit. Although the UK government makes in excess of £4 billion every year from taxable revenue courtesy of gambling companies, it is unlikely there will be a major impact on this going forward.
One silver lining to come from this bill, though, is that there will not be a ban on gambling companies advertising with football clubs, which means major awareness will still be there for them to market to their target customers.
It could be that this new change is something that they will have to get used to industry-wide, particularly if other gambling authorities decide to take the same stance as the UK to combat problem gambling and implement lower maximum stakes. After 17 years since the last reform (2005), this could well have a significant impact.
Written for onlinecasino-southafrica.co.za by Adiela de Bruyn - on 01-12-2022