Boyd Gaming stock Rockets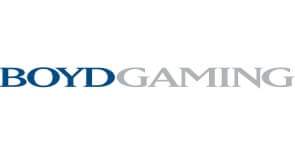 It has been revealed that figures from the first quarter of 2023 have shown that Boyd Gaming stock has significantly propelled in value. In terms of figures, the revenue total was up to $94.0 million year-on-year.
As a result, it means that it is positive news for the company's overall standing in the US online gambling market, which has witnessed a considerable boom over the last couple of years.
While there is a significant way to go for the company, which actually counts its land-based operations as its main asset, this is certainly a big achievement.
Where next for Boyd?
Over the last couple of years, the gambling firm has spent its time leveraging what is a respectable brand name to build up an online gambling entity. Based on the results from the first quarter of 2023, this definitely appears to be paying dividends.
Its progressive presence in certain US states over the last couple of years has helped it to substantially build up its brand name and, as a result, it can potentially position itself strategically to compete with the US industry's elite.
The underlying belief is that the company's excellent and intuitive business model has helped to contribute towards its considerable growth over the first quarter of the year.
While its land-based business continues to shoot up in perpetuity, there is also optimistic hope that the same can happen for its online business.
Certainly, the next three quarters of 2023 are key for Boyd Gaming. The company will hope that it can solidify its status and be in a position to compete with the majors.
Written for onlinecasino-southafrica.co.za by Adiela de Bruyn - on 30-04-2023