Discover the unique Hot or Cold promotion at PlayOjo Casino!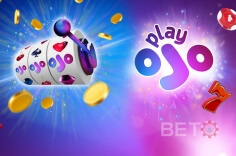 Once you have signed up to the PlayOjo Casino, you can take advantage of one of the most impressive features in the world of online casino!
This, quite simply is an ingenious and intuitive feature that allows you to visit the promotions page of the site and click on activate the 'Hot or Cold' option.
Upon doing this, you will get to see which slots on the site have been paying out extortionate amounts and those that have been paying small amounts.
How does this feature work?!
Quite simply, the slots that are revealed as having paid out a lot are labelled as 'hot', while those that have rarely paid out are depicted as 'cold'.
As a result of this, by knowing this extremely valuable information, it allows you to make a well-informed judgement call about which slots to play.
Those slots which are revealed to be on a hot streak, might be the ones that you want to try, however, this is not always a sign of a guarantee. As a result, if a slot is 'cold', it may mean that it is due for a change in fortune and could land some lucky players a considerable amount of money.
It will require a significant amount of judgement and other factors may well come into play. It is definitely worth investigating the different technical elements of the various slots. For example, if a slot is cold, it could well have a high level of volatility.
This means that the slot pays out very infrequently, though when it does so a lot of money usually lands - this also works the other way around. A 'hot' slot might have a low volatility level.
In addition, a favourable (high) RTP (Return-to-Player) percentage could mean that the slot is 'hot'.
Sign up to PlayOjo and get this now!
Becoming accustomed to this highly innovative feature could put you ahead of many other players in terms of your slot progress and could well allow you to time your next big win right down to the minute.
With a huge selection of slot games on offer, this online casino is swiftly becoming one of the most sough-after on the market, so make sure you sign up and take advantage! Who knows how long this promotion will be available!
Written for onlinecasino-southafrica.co.za by Adiela de Bruyn - on 15-10-2023