Anonymous casino
Playing at a reputable online casino is an easy way to enjoy casino gaming without having to set food in a real casino. Some players are understandably concerned about any potential risks involved in using the internet to play casino games. Being able to play anonymously online is one solution to this concern, but is it possible?
Estimated reading time: 4 minutes.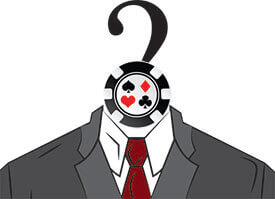 Choose a great South African casino
Anonymous play
To be completely anonymous when playing online casino is difficult. This is because legitimate sites will always ask you to provide identification details before you can withdraw your money. Understandably, casino operators work hard to prevent potential fraud or other criminal activity. They will be within their rights to refuse to pay out money if there is a discrepancy or a problem with a player's ID details.
But although it is not possible to be 100 percent anonymous, there are things that you can do to maximise your anonymity. This can be important if you want to minimise how many companies have access to your details, or you simply want to be extra secure.
Using a VPN
Virtual Private Networks (VPNs) are growing in popularity with online gamblers. By using a VPN you can connect to the internet securely through a server operated by a VPN provider. Which is set up independently of your normal internet provider. VPN servers can be based anywhere in the world, and enable you to surf the internet and play your favourite online casino games without revealing your location. This enables you to gamble anonymously or in casinos you are not allowed to play for your region.
By using a VPN, you can keep your browsing activity secure, and protect your security if you are using a public Wi-Fi connection. It is important to note that anyone using a VPN provider in South Africa should make sure that it is a legitimate operator.
Anonymous deposits
If you are concerned about security when making deposits at a casino, you may want to consider using anonymous deposit methods. There are two main types of anonymous deposit methods; pre-paid and virtual currency:
Pre-paid deposit methods
Pre-paid cards, which are sometimes known as e-Vouchers, have become an extremely popular anonymous deposit method with online gamblers. They are widely accepted among reputable online sites. The cards can be purchased for cash from a range of retail outlets, and the buyer uses a unique pin-number to deposit cash with the casino. No ID is required at any stage, ensuring your financial transaction remains secure.
Of course, the disadvantage of using a pre-paid card to make online casino deposits is that it is not possible to make withdrawals onto the card. If you want to be able to claim your winnings, you will need to offer an alternative banking method.
Bitcoin
Bitcoin is the most famous example of a new kind of banking option known as cryptocurrency. The concept of cryptocurrency can be difficult to grasp, but essentially, this type of financial method enables you to transfer money from one individual to another, entirely online. The advantage of Bitcoin and other cryptocurrencies is that it works without the involvement of any financial institution. This means there is no central database of financial details.
Online service operators have been slow to embrace cryptocurrencies. In recent months there has been an increase in the number of online casinos accepting Bitcoin transactions. This trend is likely to continue in future. Cryptocurrencies such as Bitcoin are the only online payment methods that can guarantee complete financial anonymity when using an online casino. Bitcoin is likely to be prove increasingly popular with South African players.
How to stay safe
While complete anonymity may be a difficult thing to achieve, there are many ways to limit your exposure to security risks and to maximise your privacy, including:
- Only use casinos that employ 128 Bit-SSL encryption
- Ensure you opt for casinos that are fully licensed
- When you play casino games, look for those produced by well known developers
- Prefer sites that have been audited by organisations such as eCOGRA
- Never give out personal or financial information to other players
By using these measures and those detailed above, you can maximise your anonymity, enabling you to enjoy your casino gaming safely and privately.