Ice hockey betting
Ice hockey might be regarded as a minority sport in South Africa, but for sports betting fans, it offers many attractions. As well as being one of the world's most dynamic sports to watch, it also provides a wealth of betting opportunities, with dozens of international and domestic tournaments and games taking place globally, from the NHL to the Olympics and the World Championships. So, if you want to know more about how to profit from this exciting sport or if you just want to brush up on the basics, here's a quick guide to ice hockey betting.
Estimated reading time: 5 minutes.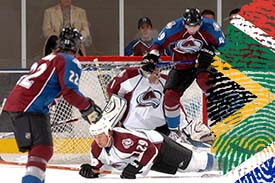 How to Bet
The South African sports betting market is extremely competitive, which means that any company that hopes to be successful has to offer a service that is easy to use, from signing up to making your bets, which is good news for newcomers.
Some sites are more user-friendly than others, of course, but the basics remain the same with most South African online bookmakers. You will first need to register with your preferred site, which is done by filling in an online form. Some sites will also ask you to verify your identity by uploading copies of documents such as a driving licence or passport.
Once you've registered, the betting process is usually straightforward. You can make a deposit by choosing your preferred banking method and then find the ice hockey event or market of your choice using the site's navigation tool, which usually displays sports and events in alphabetical order. Once you've made your choice, you can click on your selection, and it will appear in your online betting slip. All that is then required is to add in your stake, check your potential winnings and, when you're ready, click again to confirm your bet.
Ice Hockey Betting Markets
As with many other team sports, the most popular ice hockey bet is the Match Winner. Ice hockey doesn't allow draws so when you're betting in this market, you are weighing up only two outcomes. This makes the process of analysis easier, although it can mean that the odds available on favourites are often shorter than you will find with football.
Another popular option is the Tournament Winner market. In these markets, it is sometimes possible to bet each-way, which means that you can still make a profit if a team reaches the final of a tournament, even if they don't win it. And in the case of domestic leagues, such as the NHL, you can also bet on the winners of the various Divisions and Conferences.
Handicap betting is more of a niche market in ice hockey, but it can offer opportunities for the shrewd punter. With ice hockey handicap match betting, the favourite is given a handicap in the form of goals, and you then have to decide whether you want to bet on them to beat the handicap. This offers a useful alternative to the Match Winners market for games where there is a very strong favourite at short odds.
Consider the Goals Markets
If you can't find a suitable bet in the Match Winner or Tournament Winner markets, there are plenty of other options, including a host of markets associated with goals, which can offer an alternative way to profit from your ice hockey knowledge and analysis.
- Total Goals is often a good place for ice hockey betting fan to start as most ice hockey teams are consistent in the number of goals they score and concede.
- Both Teams To Score can provide opportunities for profit if you think you've found a game in which one team will fail to score.
- The Correct Score market is probably the most volatile of the goals markets, but with bigger odds on offer, the rewards can be significant.
Consider Schedules in the NHL
Most ice hockey betting fans will develop their own strategies to profit from the sport, but there are some useful tips to bear in mind, one of the most important concerns the world's most popular domestic ice hockey tournament.
The NHL, which incorporates teams from both the US and Canada, accounts for a huge proportion of the global ice hockey betting market, and one of the first things that you notice about the league is the astonishing number of games that are packed into a season.
The regular NHL season requires teams to play 82 times in the space of around six months, often travelling from one side of the continent to the other. So, as well as being a physically demanding sport to play, ice hockey in the NHL provides a gruelling logistical test. It is inevitable that teams will not be able to play with the same level of intensity in each of those 82 games and will prioritise some games over others. Careful study of the schedules of each team can therefore often pay dividends for diligent ice hockey punters.
Know your Goalies
Ice hockey is a technically varied sport, but of all the various roles on an ice hockey team, the most important is the goaltender. One of the biggest mistakes that newcomers to ice hockey betting make is to focus on the forwards and regard goaltenders as extra players there to make up the numbers. But in fact, the goaltender can make a huge difference. Teams that are forced to field their second-choice goaltender can be at a big disadvantage, so ice hockey bettors take time to get to know all the goaltenders in a league.
Conclusion
Ice hockey can be an exhilarating sport to watch, and many South African ice hockey fans take their experience to the next level by using their knowledge to bet online. As with any financial investment, betting on ice hockey shouldn't be done lightly, but for those who do their homework and get to know how the various betting markets work, betting on ice hockey online can be a profitable and exciting pastime.