Bellagio
Currently owned by MGM Resorts International, the Bellagio, themed on the Italian town of the same name, opened in 1998. Of all the well-known casinos in Las Vegas, this venue has a good claim to be the most famous. Its profile was increased significantly by the film Ocean's 11 but it was already a world-renowned gambling destination. To many people the name is synonymous with the glamour and thrills of Vegas. (3600 S Las Vegas Blvd, Las Vegas, NV 89109, United States)
Estimated reading time: 4 minutes.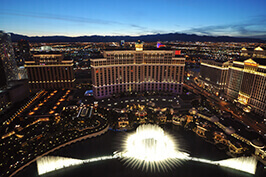 Location
Like most of the major casinos in Las Vegas, the Bellagio is in a convenient, centralized location making it easy to access the local transport networks. It is based towards the south of the Strip and next to Caesar's Palace . There is ample parking space for those travelling by car. There are valeting options at the main entrance of the Bellagio hotel or the north valet, which is conveniently situated near Interstate 15.
Casino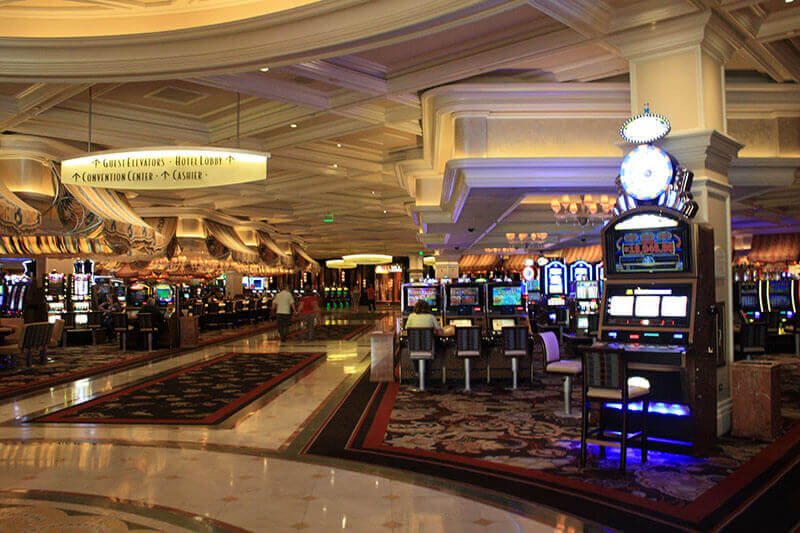 The well-designed Bellagio casino floor is over 116,000 square feet in size and features all of the most popular table games arranged by section. It is worth noting, however, that the Bellagio doesn't cater particularly well for those who like to wager with smaller stakes. It can be difficult to find table games with minimum stakes lower than $20.
This is particularly true of the Baccarat gaming options, which are usually confined to high stakes players, but that said, the range of table games available is impressive. It covers multiple variations of Blackjack, Craps and Roulette.
When it comes to slots titles, no other Las Vegas casino offers as big a selection. There are over 2,300 games available, spread across the casino floor, ranging from penny slots all the way up to $10 stake games. There really is something for everyone, including modern favourites like Monopoly, Willy Wonka and Cleopatra, as well as old favourites. For those who like to wager with higher stakes, the High Limit slots area offers machines that accept stakes of as little as $5 but goes up to $2,000 on some games.
The Bellagio is particularly well known for its poker service. Their poker room is probably the most prestigious in the city, and it has been the venue for many of the World Poker Tour's biggest events. Every type of poker game is represented there, and for every type of poker player. From small stakes fun players to professionals and high rollers. There are regular small buy-in daily tournaments that are perfect for newcomers and beginners.
Accommodation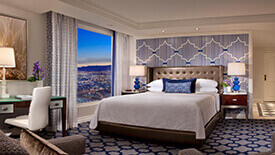 The 5-star hotel attached to the casino at the Bellagio can offer nearly 4,000 rooms, making it one of the biggest in Las Vegas. The smallest rooms, in the Fountain View and Resort class, are around 510 square feet but there are several tiers of room available. Including 14 varieties of suites, the biggest of which may cost more than $5,000 per night, although many of these are reserved for VIP use.
Restaurants
Guests looking for something to eat are certainly spoilt for choice at the Bellagio. They offer a variety of restaurants serving every type of food you can think of from Tapas to Chinese. Some of the higher end restaurants are quite expensive. If you are looking for a quick meal or a sandwich and a drink, there are plenty of smaller outlets. Including Snacks, Café Bellagio, Noodles, and two popular bakeries: Bellagio Patisserie or Sadelle's.
Leisure
The spa and salon service at the Bellagio compares well to those available at other top end Vegas casino complexes. It includes access to the Eucalyptus steam room, a sauna, three Jacuzzis and a fitness center, which hosts a range of classes such as yoga and Pilates.
Bellagio is also known for the beautiful spectacle of The Conservatory. This is a group of flower gardens that is changed every season and offers a stunning backdrop for guests. There is also a spectacular fountain show that runs several times a day.
Conclusion
There are cheaper casino options in Las Vegas, but none are as iconic as the Bellagio. While some complexes have aimed to become mini-resorts, it has stuck firmly to the old school casino tradition and offers high class casino gaming, and amenities that are based on quality rather than quantity. It is a popular hot spot for locals and international tourists alike and it's fair to say that no trip to Vegas is complete without a visit to the Bellagio.