Caesars Palace
Caesars Palace is one of the oldest and most famous names in Las Vegas and is the jewel in the crown of Caesars Entertainment. Opened back in 1966, it has been frequently renovated but has always been based around a Roman theme. It is one of the most popular venues in the city, and is synonymous around the world with Vegas and exotic gambling. (3570 S Las Vegas Blvd, Las Vegas, NV 89109, United States)
Estimated reading time: 4 minutes.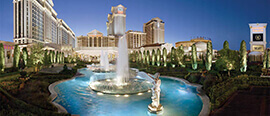 Location
Caesars is located at the heart of the Vegas Strip, on the corner of Flamingo Road near the exit from the I-15, making it easy to find. There is a valet service for VIPs and a self-parking option via Frank Sinatra Drive. The regular valet service charges, but the cost depends on the length of your stay and your status in the Caesars Palace Total Rewards program. Once you reach Platinum level, you will be allowed to park for free.
Casino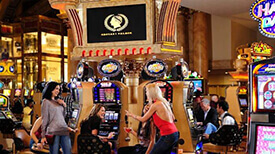 The defining characteristic of this casino is volume! The clientele is usually made up mostly of young people, and is a blend of international tourists and locals, drawn to what is a hotspot for entertainment and socialising in the city.
The casino itself has one of the biggest gaming floors in Las Vegas, consisting of a 124,000 square foot space that is divided into four pits. The gaming areas are always busy and noisy and you can choose from a wide selection of popular table games in multiple varieties. With minimum stake levels as low as $5, though some have $10 minimums.
When it comes to slots titles, gamers are also spoilt for choice at Caesars Palace. There are more than 1,000 slots machines on the casino floor and the range includes many varieties of the traditional 3-reel and 5-reel slots, along with virtual Blackjack and Keno.
These slots games start with 1c machines and go up as high as $5 games on the main floor, though there is a secluded High Limit slots room for those who want to bet for higher stakes. Among the most popular games at Caesars Palace are Animal House, Wheel of Fortune, Buffalo Gold, Ultimate Fire Link, and Seinfeld. Poker fans will also enjoy the popular poker room, considered one of the best in the city.
Hotels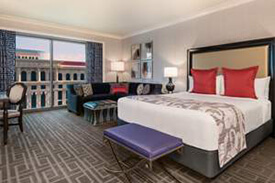 Caesars Palace boasts a popular four diamond hotel consisting of three towers: the August, Julius, and Palace, with nearly 4,000 rooms available. The types of rooms available vary from classic 350-square foot accommodation to premium and studio rooms that are around the 700 square foot mark.
There are also some more expensive deluxe suites, and penthouse and villa options, although these are often reserved for VIP guests. Paying the resort fee will give you access to a number of additional facilities, including WiFi and the fitness center.
Leisure Options
The impressive spa and fitness center at Caesar's Palace is available for guests, although non guests can only use the spa. The available treatments include a wide range of massage options, along with facials, body treatments, aromatherapy and ayurvedic treatments. The fitness center features a huge array of gym and fitness equipment and is one of the most modern you will find in the city.
If you're looking for a party, the Omnia nightclub is a good option. It is open every Tuesday and Thursday to Sunday and is one of the most vibrant nightspots in Las Vegas, frequently showcasing some of the world's best DJs. There is a VIP bottle and table service, and an outdoor balcony that overlooks the city, providing a place to mingle and chill out.
Restaurants
Considering all of the options available in the casino and the Forum Shops, there are more than twenty places offering food. This includes a number of relatively inexpensive fast food outlets and cafes. If you want to enjoy something a little more luxurious, you can try the highly recommended Joe's Stone Crab and the popular Italian restaurant Il Mulino New York. There are also plenty of bar and cocktail lounges to choose from, including the unique Montecristo Cigar Bar, and Cleopatra's Barge.
Conclusion
Along with the Bellagio, Caesar's Palace can claim to be one of the most iconic venues in Las Vegas. As well as offering a complete casino gaming experience, excellent accommodation and all of the variety in dining you could wish for... it also represents a hub of Vegas culture that should be experienced by every casino fan.